JUNGLE TREKKING CHIANG MAI
Trekking Chiang Mai – 8Adventures undoubtedly offers some of the most epic trekking tours in Chiang Mai and Northern Thailand. Our unique eco treks take you off the beaten path along little known hiking trails. They are authentic excursions through varied environments with expectational english speaking guides. You will get a real view into the indigenous way of life in a non intrusive manner. See amazing vistas of the Mae Taeng Valley, learn about edible plant life and get away from the city.
Come and join us on an amazing day or multi-day trekking chiang mai excursion!
ROUND TRIP TO A BEAUTIFUL WATERFALL
This is a 1.6 km trek through amazing jungle, to a 10 meter high water fall, This 3 hour trekking Chiang Mai trip is a fun way to see some of the jungle and nature in Thailand.
After the pleasant walk up to the waterfall, we take a break where you can swim and refresh. You will have the opportunity to change into your swimming attire before we leave to go on the trek. Our river camp has full hot showers as well so don't worry you can rinse off when you get back to the camp. Your guide will be pointing out different flora and fauna along the way giving you some small facts to remember. One we are done with our splashing around at the bottom of the waterfall we will walk down the same path we came up. If your group is very active we can go past the waterfall a little ways. This trip is also perfect for families it is an easy gradient up to the falls.
Trekking Chiang Mai is perfect to add onto our Whitewater Rafting or ATV adventures
Lunch, snack and water are included.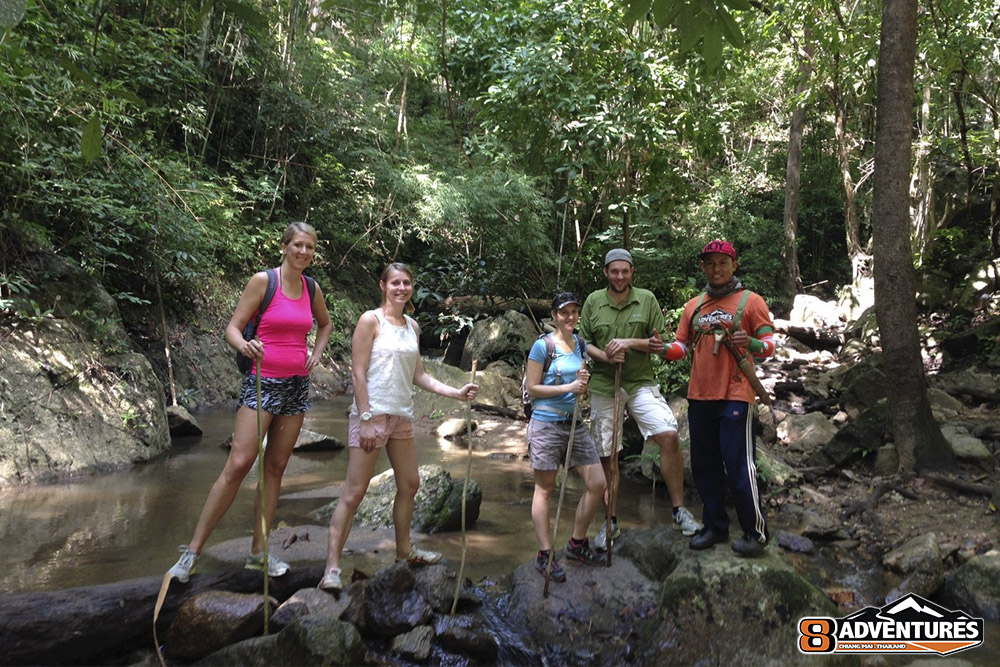 PRICE: 2,000 Baht
Difficulty: Easy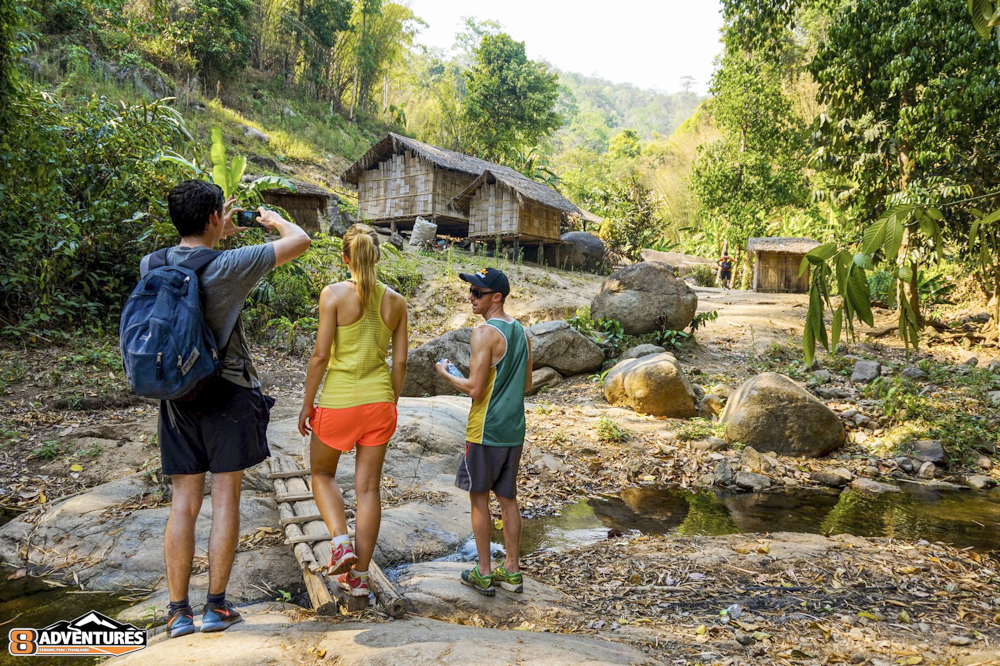 PRICE: 3,500 Baht
Difficulty: Moderate
TREK TO THE HEART OF THE JUNGLE
After arriving at our riverside camp you will have the opportunity to change and use the restrooms and then we will head out hiking up the mountian to a beautiful Lahu Village. This villiage is a great example of a traditional hill tribe villiage in thailand and it has amazing views. We will take a small break here and then continue on walking down a single track trail passing another small villiage through a peacful jungle setting. We will arrive at a set of waterfalls where we will take another break to relax and cool off. Then we continue to the exit of the trail and arrive at the mae tang river where a vehicle will pick us up. The whole trail is 7 km and we descend about 600 meters
Lunch, snack and water are included.
6 HR ENDURANCE HIKE (ROUNDTRIP)
AWE INSPIRING TREK!
This amazing 14km hike has 600m of elevation gain and a 600m elevation drop. This trek is full of adventure and not for those that want a casual stroll! It's a tough mountian trek.
It climbs up out of the valley at a pretty steep grade, gaining 500 meters of elevation in 2.5 km This section meanders through bamboo forest before finally reaching a 4×4 road that we use to traverse across the mountain to Baan Pha Daeng a Lahu Village hill tribe.
This section has stunning views and the road gives a nice reprieve from the steep uphill. The road section is about 2 km long before ducking back into single track for the rest of the trip. You also will pass an area where monks come to meditate in caves and where the village gets it name.
This next section of 2.5 km trail continues to traverses the mountainside between two villages. You will see hand farmed fields and hand harvested areas. There's lots of shade from the lychee orchards, coffee farms and the middle of it has some nice old growth jungle when you cross a stream. This section ends at Huay Kukap; a great place for lunch, and a drink and amazing views!
From here we walk down on single track passing another village hill tribe, and a couple of waterfalls before finally popping out at the Mae Taeng River. If you have made good enough time its a great place to cool off with a quick shower under the falls. This section is about 7 km and descends about 600 meters.
Singles 3,500 Baht
2 to 6 guests 3,000 Baht each
This is a fabulous trek, but be ready for some steep up hills!
In all trekking Chiang Mai trips with 8Adventures, lunch, snack and water are included.
PRICE: 3,500 Baht
Difficulty: Difficult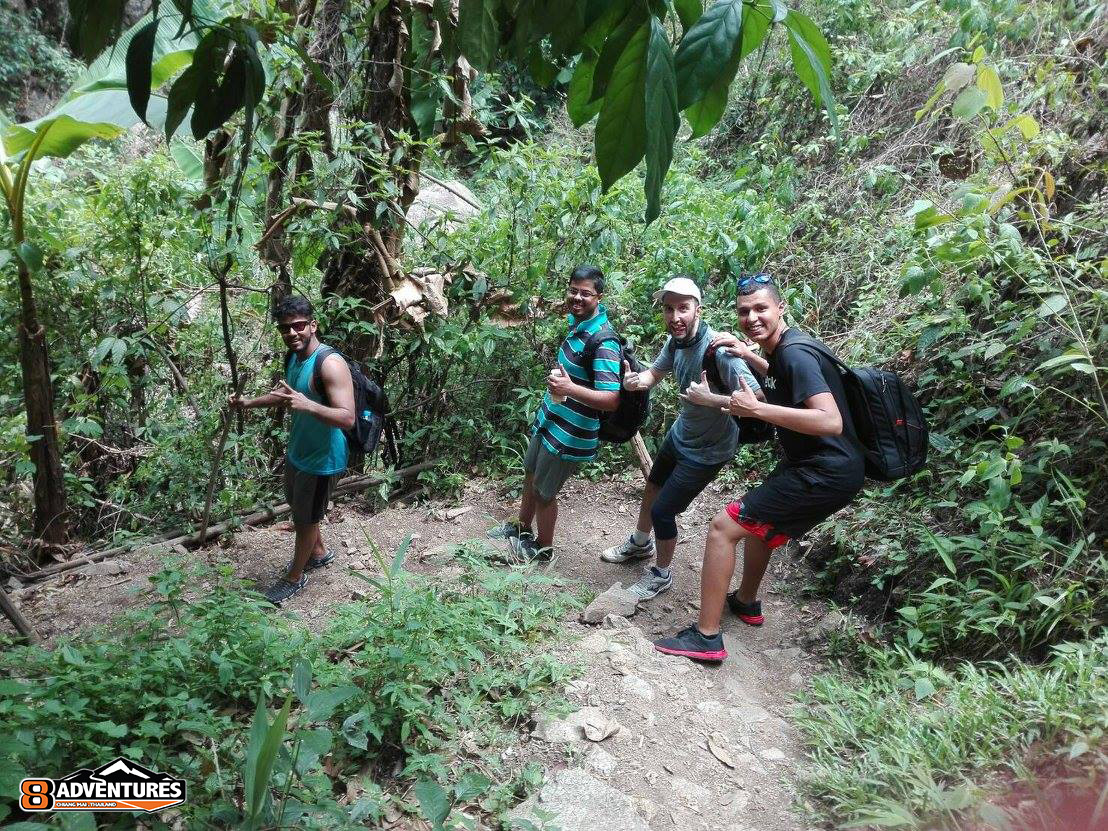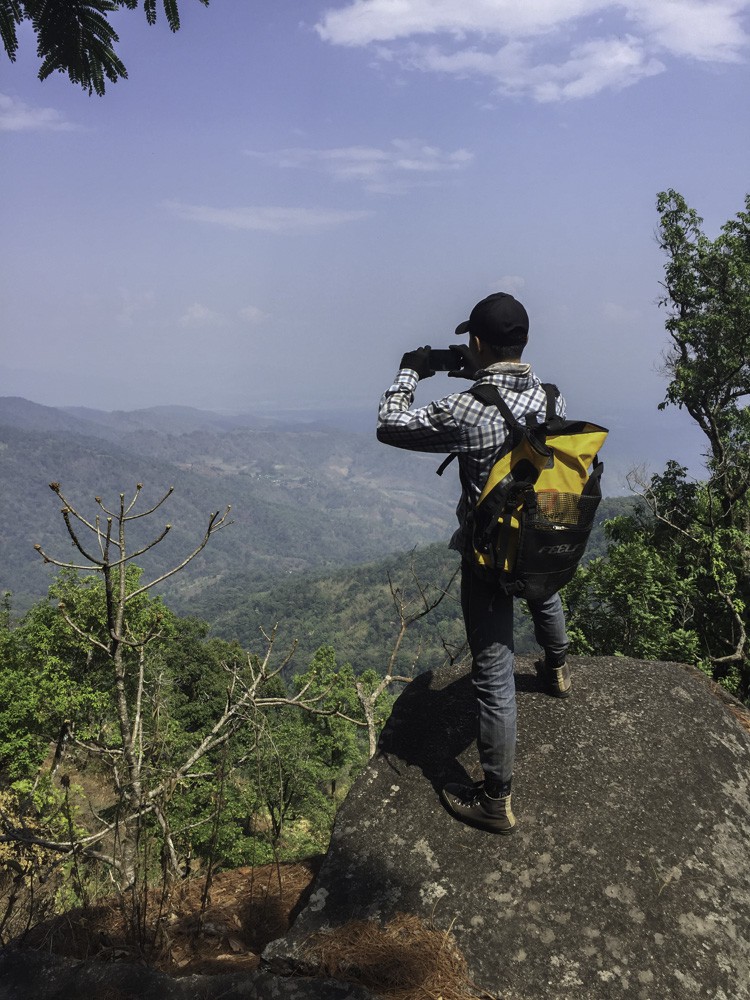 Trekking or Hiking can be done almost anywhere in the world by Trekking in Chiang mai can be extremely enjoyable. With the lush forest of south east Asia the flora and funana is some of the most diverse on the earth
Things to remember when Trekking
Bring shoes to hike in
Bring a change of clothes
Stay hydrated
Stay with your group.
RESTRICTIONS
For Trekking Chiang Mai – All participants should be in reasonable physical condition. If you have a heart, back or neck condition, broken bones or are pregnant, our activities are not for you. If you're not sure or would like clarification please contact us.
We recommend that customers bring sunscreen and bug spray.
For more details on safety and what to wear and bring check out Our Safety Page