Rafting 8km
 Great for Families
Rafting 8km
 Great for Families
Wonderful river float, great for kids as we skip the large rapids!
8 km rafting is great for those looking for an introduction to rafting, families with younger children, or those that just want a quick splash in the jungle to cool off from the heat. This section of the Mae Taeng river is class II and III. With an easy beginning giving you have some time to relax, learn your skills with your guide before entering a great class III and into short continuous section of rapids that goes almost all the way to the take out where our camp is. We have top-of-the-line equipment and well trained river guides to make sure you have a safe adventure. We have towels for you at the finish and shower facilities that you can use before heading home.
Air-conditioned Transportation
UL Coast Guard Approved Life Jackets
CE EN certified helmets.
CPR and First Aid Certified guides and staff
Lunch
Drinking water, tea or coffee
Insurance
Towel set
PRICE: 2,500 Baht
Transportation and lunch are included!

Pickup from Chiang Mai: 08:00 to 08:30 or 11:30 to 12:00 noon

Return to Chiang Mai: 16:00 or 19:00

 Trip Code: R-8
What to wear / What to bring
Please remember a change of clothes as you will get wet! A swimming suit (quick drying shorts to wear over swimsuit is recommended for comfort and cultural sensitivity), athletic shoes, sunscreen, refillable water bottle, small day pack, dry set of clothes, socks and dry shoes or sandals. Please sea our F.AQ. or Safety Page for further information.
RESTRICTIONS
All participants should be in reasonable physical condition. If you have a heart condition, back, neck, broken bones or are pregnant our actives are not for you.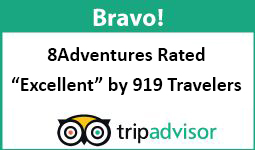 WHAT TO WEAR AND WHAT TO BRING:
Please bring a photo or photocopy of your passport for registration. Bring a dry change of clothes for your ride home.
Rafting: Swimsuit and shoes
We recommend that customers bring sunscreen and bug spray.
CAMERA INFO:
For Rafting and ATVs we have GoPro mounts on the top or the helmets. You must bring the slider attachment. For rafting if you can't swim with it don't bring it.
We take no responsibility for lost GoPros or broken mounts or personal cameras of any kind.
For more details on safety and what to wear and bring check out
8Adventures.com/safety/
Copyright © 2023 8Adventures™ - All Rights reserved