CHIANG MAI TOURS – COMBINATION ADVENTURES
One of the big benefits of going on a Chiang Mai tour and an excursion with 8Adventures is combining adventures and participating in many different activities in one day. We specialize in a number of adventure sports and all trips are professionally run. Choose an option that best fits your needs, and if it is not on the list please let us know and we can custom make an adventure that suits you and your group. Choose 8Adventures for your Chiang Mai tours and you will not be disappointed!
The pick-up time from Chiang Mai is 8- 8.30AM, returning back at 7pm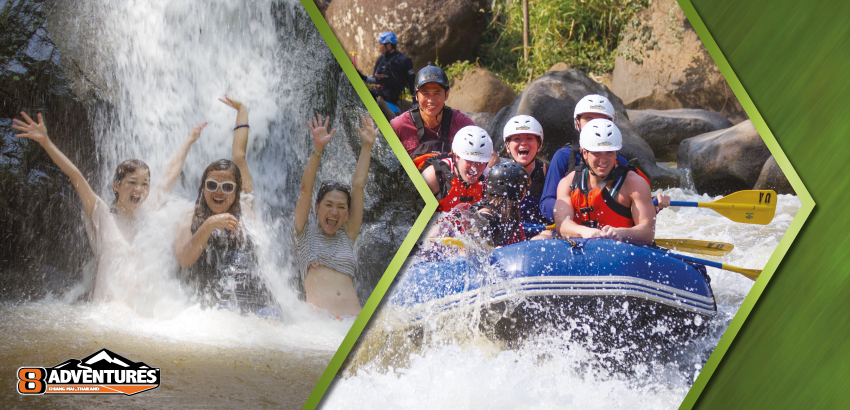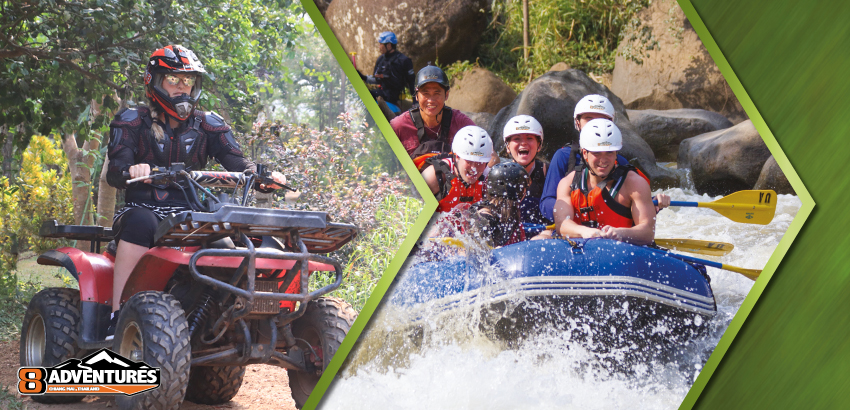 TREKKING 3 HRS + ATV 3 HRS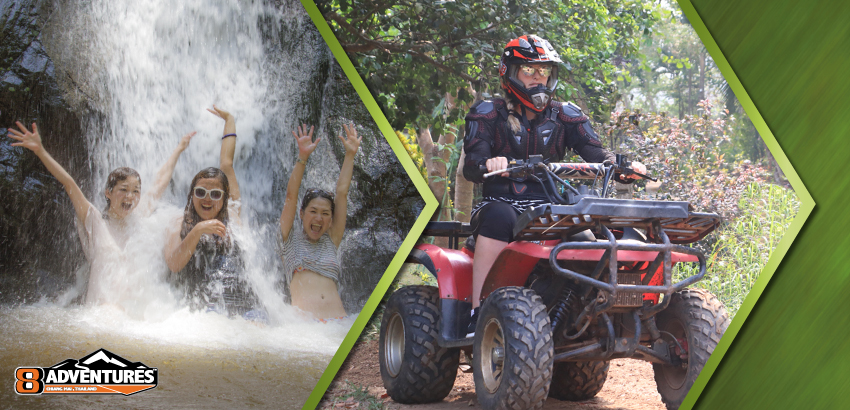 ATV 3 HRS + Village Stay + Trek 4.5 HRS + Rafting 10KM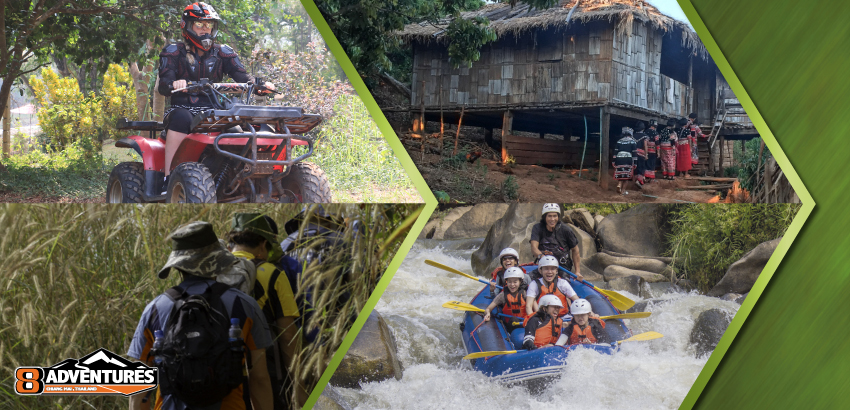 RESTRICTIONS
For all Chiang Mai Tours with 8Adventures please be advised of the following:
Rafting 10 km: Must be aged 15 years and older and be able to swim. Max Weight 120 KG. If over please advise.
CE Helmets and Coast Guard Approved Life Jackets are provided for all Rafting Trips.
Rafting 8km: Must be age 7 years and older (Water level dependant: high water varies the most in July, August and September)
ATV: Participants must be at least 15 years of age to drive the ATV. Children younger than 15 will need to be passengers on the ATV.
Zipline: There is a strict age limit of 70 years for the Zipline adventures. There is also an upper weight limit of 100kg. Please inform us if any one in your group weighs more than 100kg.
For Chiang Mai Tours All Participants should be in reasonable physical condition. If you have a heart, back or neck condition, broken bones or are pregnant our activities are not for you

If you're not sure or would like clarification please contact us.
WHAT TO WEAR AND WHAT TO BRING:
Please bring a copy or photocopy of your passport for registration. Bring a dry change of clothes for your ride home.
Rafting: Swimsuit and shoes
We recommend that customers bring sunscreen and bug spray.
CAMERA INFO:
For Rafting and ATVs we have GoPro mounts on the top or the helmets. You must bring the slider attachment. For rafting if you can't swim with it don't bring it.
We take no responsibility for lost GoPros or broken mounts or personal cameras of any kind.
For more details on safety and what to wear and bring check out
Our Safety Page

Copyright © 2023 8Adventures™ - All Rights reserved