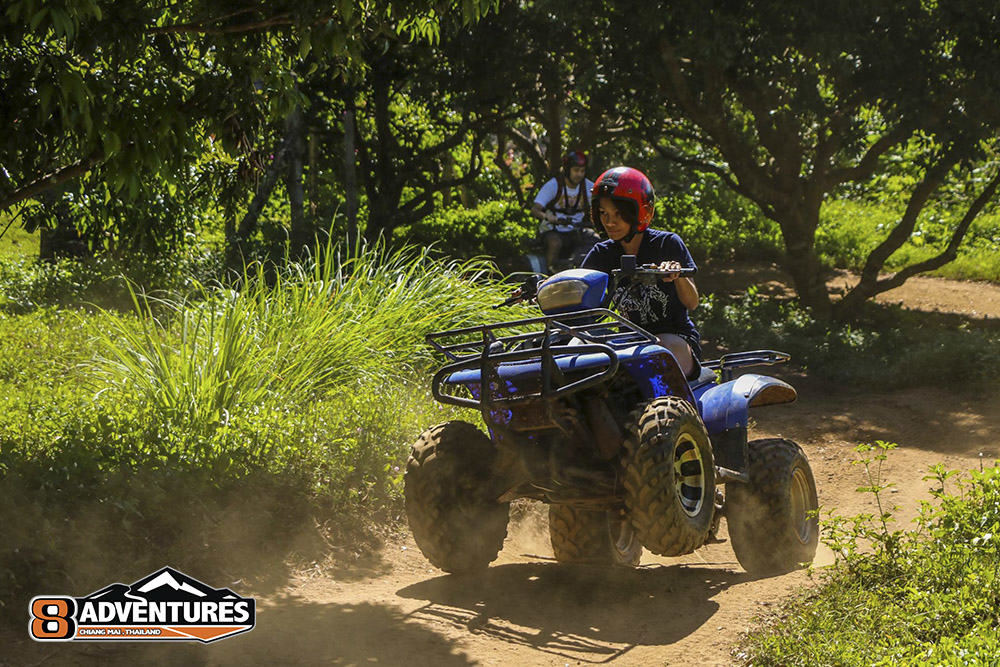 3HR ATV TOUR, ON AND OFF ROAD (WITH TRAINING)
8Adventure's 3-hour ATV Tour is set up for beginners to intermediate drivers. We start out with detailed instructions and a training course to get you comfortable with your vehicles. It covers roughly 40 km in distance it is a mix of on road and off road jungle terrain. It's well-suited for those that would like to explore the local countryside and see it a different way.
Transfer by air-conditioned Van, SUV, Car or Truck
ATV: DOT (Department of Transportation) and CE Rated Helmets
CPR and First Aid certified guides and staff
Lunch
Please note that we recommend all participants to be drivers unless they are younger than 15
PRICE: 3,500 Baht
ATV PASSENGER: 2,300 Baht
Pickup from Chiang Mai  Morning: 8:00 to 8:30 AM Afternoon: 11:30 to 12:00 noon
Return to Chiang Mai: Morning: 16:00 PM Afternoon: 19:00 PM
What to wear / What to bring
We highly recommend that you bring sunglasses or glasses and we advise wearing shoes. It is not a good idea to drive your ATV in sandals as there are sharp stones and rocks on the road. Likewise, in the event that you fall off it's a great idea to protect your skin from scrapes by wearing trousers and a long sleeved T-Shirt.
Sunscreen is also important and we recommend you bring a refillable water bottle and a change of dry clothes in the event that it's raining.
RESTRICTIONS
All participants should be in reasonable physical condition. If you have a heart condition, back, neck, broken bones or are pregnant our actives are not for you.