CHIANG MAI TREKKING, ATV & WHITE WATER RAFTING TOURS
CREATED BY A 2-TIME WORLD CHAMPION KAYAKER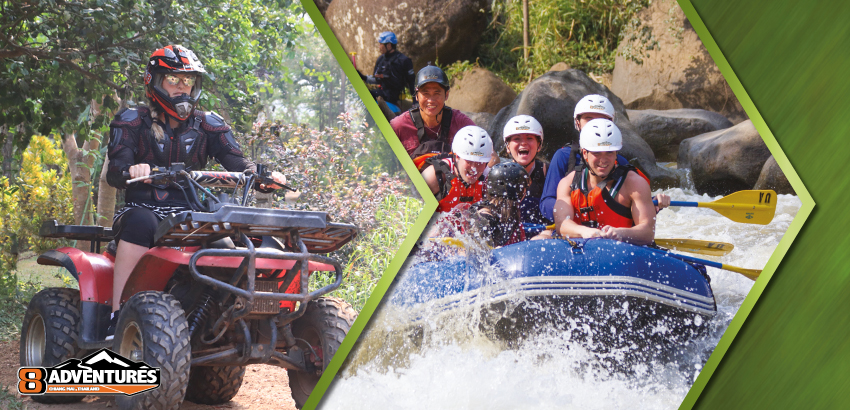 Our most popular combination adventure! Enjoy a 3-hour ATV Adventure combined with action-packed 10km Whitewater Rafting. Experience culture, scenery and rivers in northern Thailand.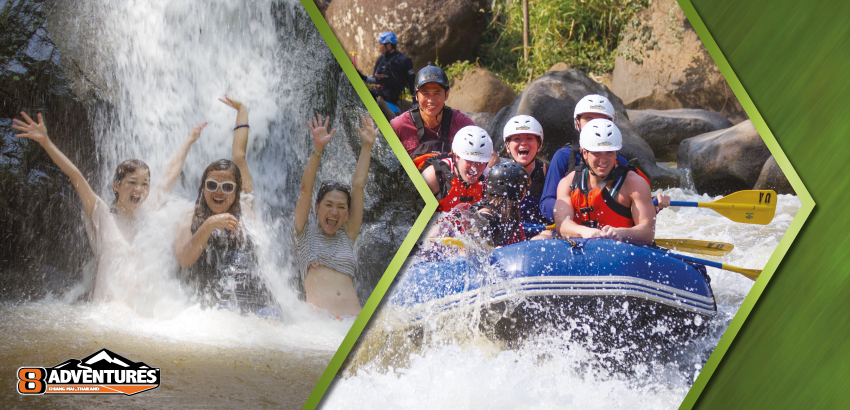 Enjoy the combination of a 3-Hour Trek to a waterfall and an amazing 10km White Water Rafting tour, all in one day. See the best of Chiang Mai's nature and learn about flora and fauna.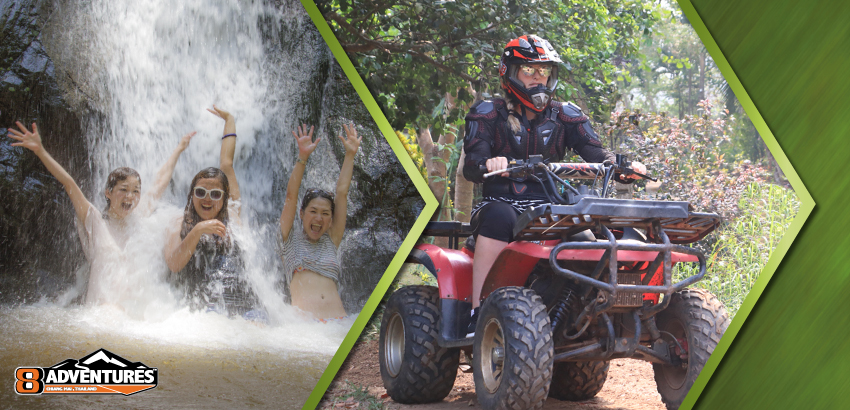 Experience a 3-Hour trek through the Thai jungle and an ATV Adventure around rural Thai villages. Suitable for families, groups and travellers of all ages, 8Adventures will ensure you have a great day out.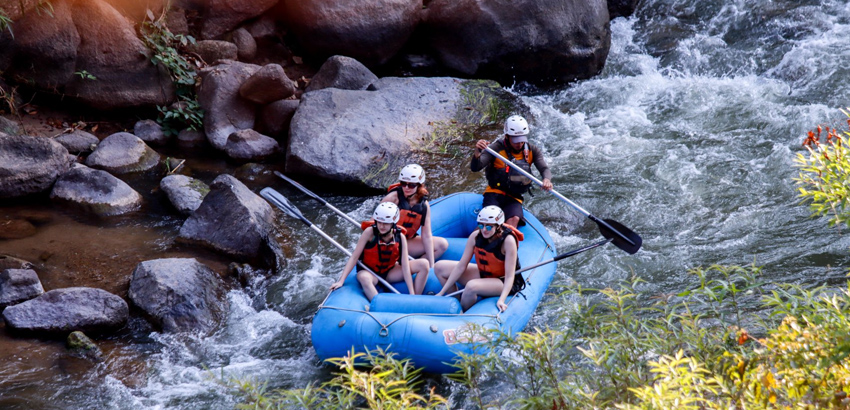 Join us on this exciting, action-packed class III-IV section of whitewater. Impressive drops with superb scenery – you will not be disappointed.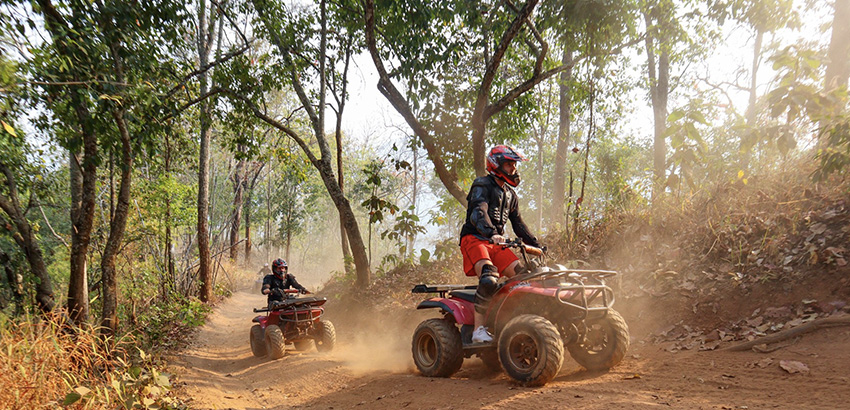 8Adventures operates the best ATV Tours in Chiang Mai! We have a great location, modern vehicles and top of the range safety gear. ATV's are awesome 4WD off road machines that allow you to explore the Thai jungle in a unique way. For a fun, safe tour look no further than 8Adventures.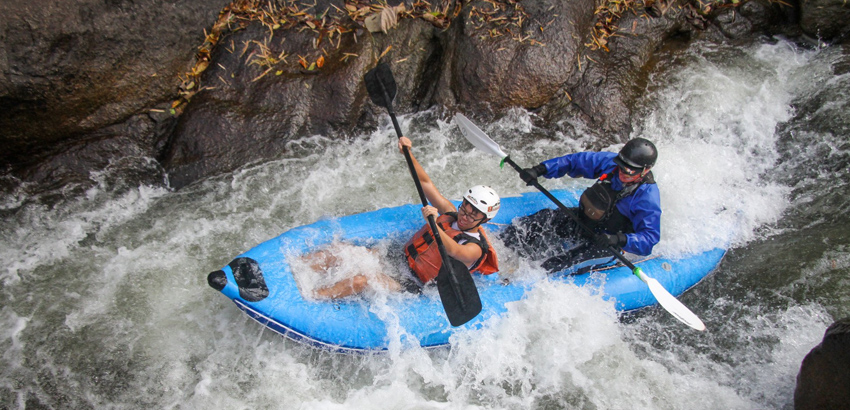 During March, April, and May, you can use inflatable kayaks, for the main class IV section, the most exciting white water in northern Thailand. The kayaks are set up with one or two guests in front and a guide in the back.
ACTIVITIES IN CHIANG MAI THAILAND
8Adventures offer some of the most exciting things to do in Chiang Mai, Thailand. We are an experienced team and top rated operator of the best White Water Rafting in Thailand with a dedication to safety. Our mission is to share natural experiences and culture, through fun, safe activities for people of all ages.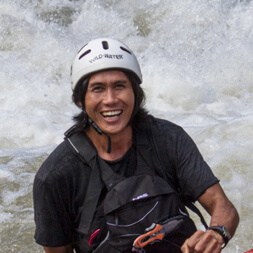 Kriangsak Boonsom, Rafting Operations
Thai National Kayaking Champion, 13 year veteran on Mae Taeng River and brilliant naturalist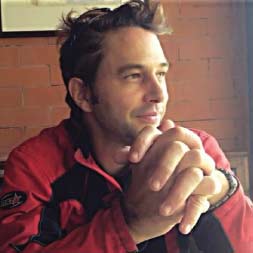 Eric Southwick, CEO
Eric is a 2- time
World Champion Kayaker
and adventure sports enthusiast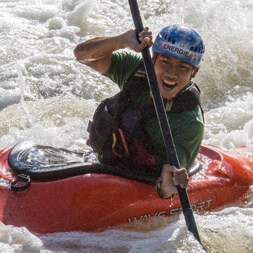 Ekwit Chuapoon, ATV Operations
Asian kayaking champion, Adventure sport enthusiast and 10 years of experience in advanced ATV.
8Adventures has been awarded a SHA Plus Certificate (E1564) for vaccinated staff and responsible Covid-19 protocols from the Amazing Thailand Safety & Health Administration.

We are the only company in Thailand to be certified by the International Rafting Federation and are ready to handle any rescue situation, should it occur.

The Red Cross certifies all of our guides in First Aid and CPR and we use the best safety equipment. EN CE helmets and UL Coastguard approved life jackets.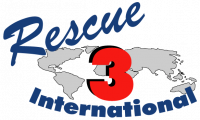 Our captains have successfully completed the White Water Rescue Technician Course arranged by Rescue 3 International, the world-renowned adventure activity training organisation.
WHAT TO WEAR AND WHAT TO BRING:
Please bring a photo or photocopy of your passport for registration. Bring a dry change of clothes for your ride home.
Rafting: Swimsuit and shoes
We recommend that customers bring sunscreen and bug spray.
CAMERA INFO:
For Rafting and ATVs we have GoPro mounts on the top or the helmets. You must bring the slider attachment. For rafting if you can't swim with it don't bring it.
We take no responsibility for lost GoPros or broken mounts or personal cameras of any kind.
For more details on safety and what to wear and bring check out
8Adventures.com/safety/
Copyright © 2023 8Adventures™ - All Rights reserved