The best 10km whitewater the Mae Taeng River has to offer
This is our signature rafting trip. 10k with a great Class III-IV rapid section on the Mae Taeng River. From our river camp we take a short 15 minute drive to "Sop Kai" village. After our full safety briefing, we set off on our adventure with the first 3 Km of exciting class III rapids through lush jungle and amazing scenery. The upper section is gorgeous with a few fun rapids to warm up in before arriving at the top of the main class IV section. Here everyone comes alive and gets ready for the section below. The guides will check in with each other and give the signal to go as all boats drop into the first class IV rapid. The class IV section is non-stop action. Follow your guide's commands as you charge forward though many rewarding class IV rapids. At the bottom everyone gives a paddle high five and celebrates a job well done, completing the most exciting section of rapids in northern Thailand. But the fun is not done ~ you still have 4 kilometers of Class III and 5 more kilometers back down to 8Adventures. Don't be surprised to see an elephant while floating down this spectacular scenic section of river.
UL Coast Guard Approved Life Jackets
CE EN certified helmets.
CPR and First Aid Certified guides and staff
Drinking water, tea or coffee
Insurance
Towel set
PRICE: 3,000 Baht
PROMOTION: 2,000 Baht
Transportation and lunch are not included in the promo price 

Pickup from Chiang Mai: 8:00 to 8:30 am OR 11:30 to 12:00 noon.

Return to Chiang Mai: 16:00 OR 19:00 PM

Trip Code: R-10
What to wear / What to bring
Please remember a change of clothes as you will get wet! A swimming suit (quick drying shorts to wear over swimsuit is recommended for comfort and cultural sensitivity), athletic shoes, sunscreen, refillable water bottle, small day pack, dry set of clothes, socks and dry shoes or sandals. Get ready for the best whitewater rafting in Chiang Mai
RESTRICTIONS
All participants should be in reasonable physical condition. If you have a heart condition, back, neck, broken bones or are pregnant our actives are not for you.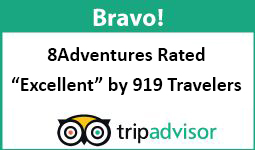 WHAT TO WEAR AND WHAT TO BRING:
Please bring a copy or photocopy of your passport for registration. Bring a dry change of clothes for your ride home.
Rafting: Swimsuit and shoes
We recommend that customers bring sunscreen and bug spray.
CAMERA INFO:
For Rafting and ATVs we have GoPro mounts on the top or the helmets. You must bring the slider attachment. For rafting if you can't swim with it don't bring it.
We take no responsibility for lost GoPros or broken mounts or personal cameras of any kind.
For more details on safety and what to wear and bring check out
8Adventures.com/safety/
CONTACT INFO
8Adventures
Phone: +66 8 9000 7728
Email: info@8adventures.com
Contact Us Web Form
TAT# 0505558000355
Copyright © 2020 8Adventures™ - All Rights reserved