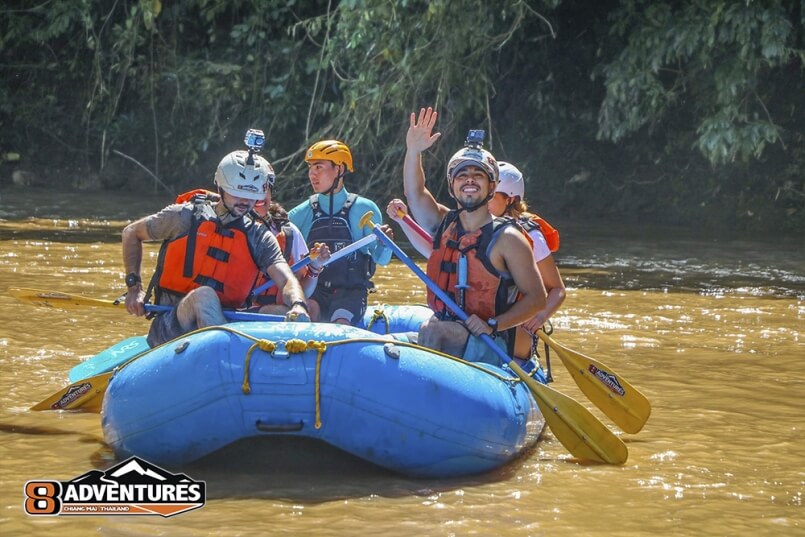 ATV, VILLAGE STAY, TREK & RAFT!
3hrs ATV up the mountain to stay in a traditional hill tribe village, then 4.5hrs trekking before 10km of awesome white water rafting
This amazing overnight adventure allows you to escape from the city and spend the night in an indigenous village. The village is located on a beautiful mountainside which we'll reach by driving ATVs up a jungle track. On occasions when the road is too muddy we may need to traverse some sections by 4 x 4. We'll prepare a delicious dinner for you and after stargazing and sitting around a fire you'll sleep peacefully. The next morning we'll wake up early to go trekking and in the afternoon of the second day experience white water rafting. 1 half day, 1 full day and one night out (Dinner, breakfast and lunch are included)
Air-conditioned Transportation
UL Coast Guard Approved Life Jackets
CE EN certified helmets.
CPR and First Aid Certified guides and staff
Lunch
Drinking water, tea or coffee
Insurance
Towel set
TRIP CODE:
A3 + VS + T4.5 + R10
Pickup from Chiang Mai: 11:30 to 12:00 noon.
Return to Chiang Mai: By 19:00 the following afternoon
Trip Code: A3 + VS + T4.5 + R10
What to wear / What to bring
Please remember a change of clothes as you will get wet! A swimming suit (quick drying shorts to wear over swimsuit is recommended for comfort and cultural sensitivity), athletic shoes, sunscreen, refillable water bottle, small day pack, dry set of clothes, socks and dry shoes or sandals. Please sea our F.AQ. or Safety Page for further information.
RESTRICTIONS
Rafting 10 km: Must be aged 15 years and older and be able to swim. Max Weight 120 KG. If over please advise.
CE Helmets and Coast Guard Approved Life Jackets are provided for all Rafting Trips.
Rafting 8km: Must be age 7 years and older (Water level dependant: high water varies the most in July, August and September)
ATV: Participants must be at least 15 years of age to drive the ATV. Children younger than 15 will need to be passengers on the ATV.
Zipline: There is a strict age limit of 70 years for the Zipline adventures. There is also an upper weight limit of 100kg. Please inform us if any one in your group weighs more than 100kg.
All participants should be in reasonable physical condition. If you have a heart condition, back, neck, broken bones or are pregnant our actives are not for you.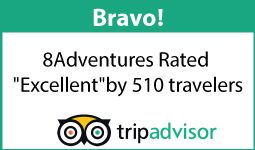 CAMERA INFO:
For Rafting and ATVs we have GoPro mounts on the top or the helmets. You must bring the slider attachment. For rafting if you can't swim with it don't bring it.
We take no responsibility for lost GoPros or broken mounts or personal cameras of any kind.
For more details on safety and what to wear and bring check out www.8Adventures.com/safety/