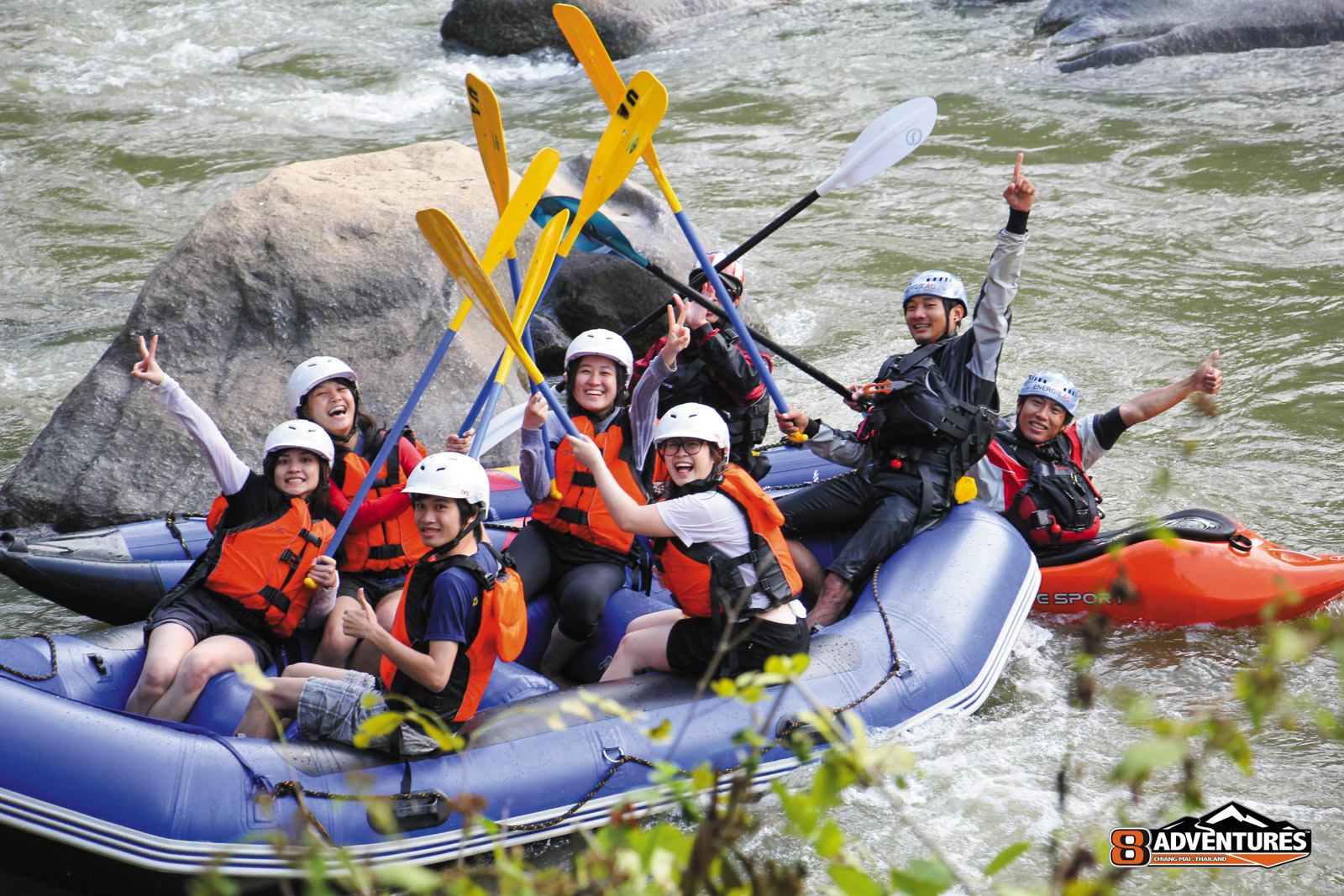 MULTI-DAY SCHOOL TRIPS ADVENTURE PROGRAMS IN CHIANG MAI
DETAILED PLANNING FOR SCHOOL TRIPS, COLLEGE AND UNIVERSITY PROGRAMS 
Programs, tours, and itineraries with 8Adventures can be tailored, adjusted and catered to the needs and requirements of your group. We specialize in school trips and multi-day tours for college and university students looking for something uniquely different to do whilst here in Chiang Mai. Our programs can be as short as half-a-day and can be tailored to last a few weeks. The longer the program the more can be incorporated such as a variety of outreach and community based sustainable projects, excursions to witness, learn and take part in unique Thai cultures, as well as participate in a wider range of adventure-based activities. On our school trips we focus on developing and strengthening teamwork, leadership, trust, confidence, problem solving and co-operation; all within a safe and controlled environment.
Each program can be designed to not only the interests of the group, but also comfort and fitness levels of the group as well. 8Adventures' school trips have been designed to meet or exceed international standards for operating in the outdoors. Knowing that there is an inherent level of risk with any adventure-based activity, we are proud to successfully provide amongst the highest standards available in Thailand – this is because the safety of our guests is always of paramount importance.
When choosing 8Adventures as a provider for your school trips, we offer a unique end-to-end service where we tie together unparalleled custom tours with pre and post trip support, highly trained and certified trip leaders, full risk assessments and operating procedures as well as world class fun for you and your students! This makes planning your school trips to Chiang Mai significantly easier and less time consuming. Our aim here at 8Adventures is to provide inspiring journeys whilst empowering you to excel in your challenges and goals, in ecologically sustainable environments. Get in touch with us to enquire about our:
School Trips, College or University Programs
Duke of Edinburgh Award Expeditions (DoE)
International Youth Award Expeditions
National Youth Achievement Award Expeditions (NYAA)
Project Week Programs
Scout Programs
Outward Bound Programs
Self-support expeditions
Adventure Programs
School Residential Programs
Corporate and Teambuilding Programs
Community Outreach Programs
4 Ways 8Adventures Do School Trips Best
Risk Assessments 
Each activity that we run has had extensive certified risk assessments carried out on them which are available for you to use and reference. In addition, 8Adventures has been externally audited and approved by STA Travel for our high level of safety and standards.
Highest Level of Experience 
Founded by 2-Time World Champion Freestyle Kayaker, Eric Southwick, along with Thai and Asian champion Kayakers Kriangsak 'Sak' Boonsom and Ekwit 'Oat' Chuapoon – the entire 8Adventures team is led by some of the most experienced outdoor enthusiasts in the industry.
Off The Beaten Track 
8Adventures prides itself on leading journeys to the remotest parts of South East Asia. Primarily based in Chiang Mai, Thailand, 8Adventures will take you on epic journeys which empower and instill self-esteem in some of the most untouched and remote areas left open for exploration.
Safety is Paramount
Safety at 8Adventures is always considered paramount importance. For example, we are the only company is South East Asia to be fully qualified and endorsed by the International Rafting Federation. Furthermore, all 8Adventures staff are First Aid Trained and Qualified.
Multi-Day University, College and School Trips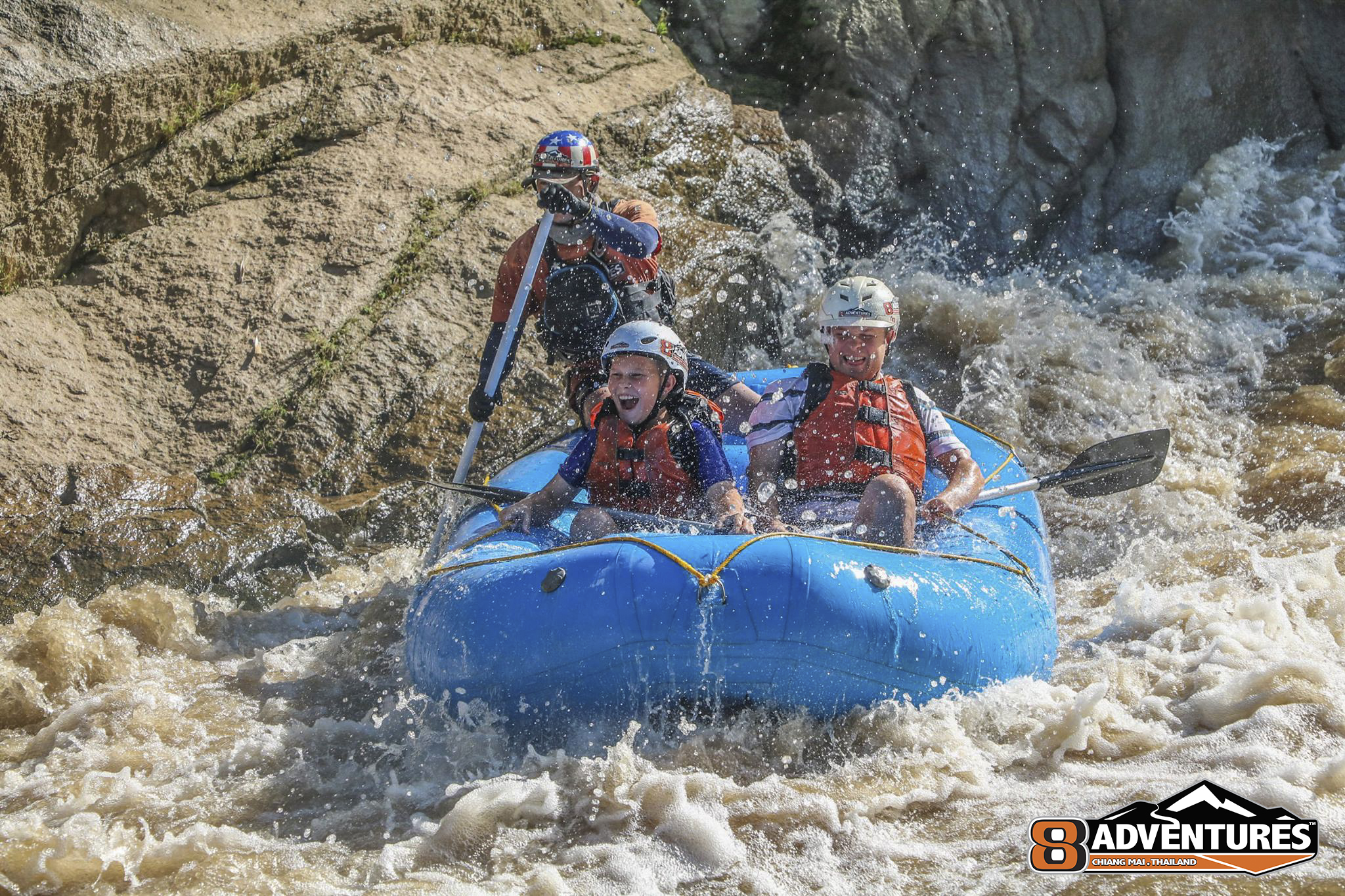 Multi-day Overview
Here at 8Adventures we can customize our Multi-Day School trips to fit your school's exact needs, but we have several general multi-day trip options for you to review. Just remember we can change these packages to fit your needs.
All options can include Transportation, Cave Exploration, Jungle and Mountain Trekking, Whitewater Rafting, Overnight Traditional Village Stays, Jungle Survival, Inflatable Kayaking, and Overnight stays at our Riverside Base Camp.
School trips can be tailored to be both shorter than 5 days, or longer than 7. Other programs that can be included are our Community Outreach Work, as well as days spent in Chiang Mai City. Contact Us or explore the options by clicking the buttons below.
"We were extremely impressed by the provision and professionalism that we were given by you and your company. Guides couldn't have been more dedicated and helpful whilst participating in the activities." – Outlook Expeditions, UK
CONTACT INFO
8Adventures 159 Moo 1, Kuet Chang, Mae Taeng District Chiang Mai, 50150 Phone: +6689 000 7728 Email: info@8adventures.com Contact Us Web Form