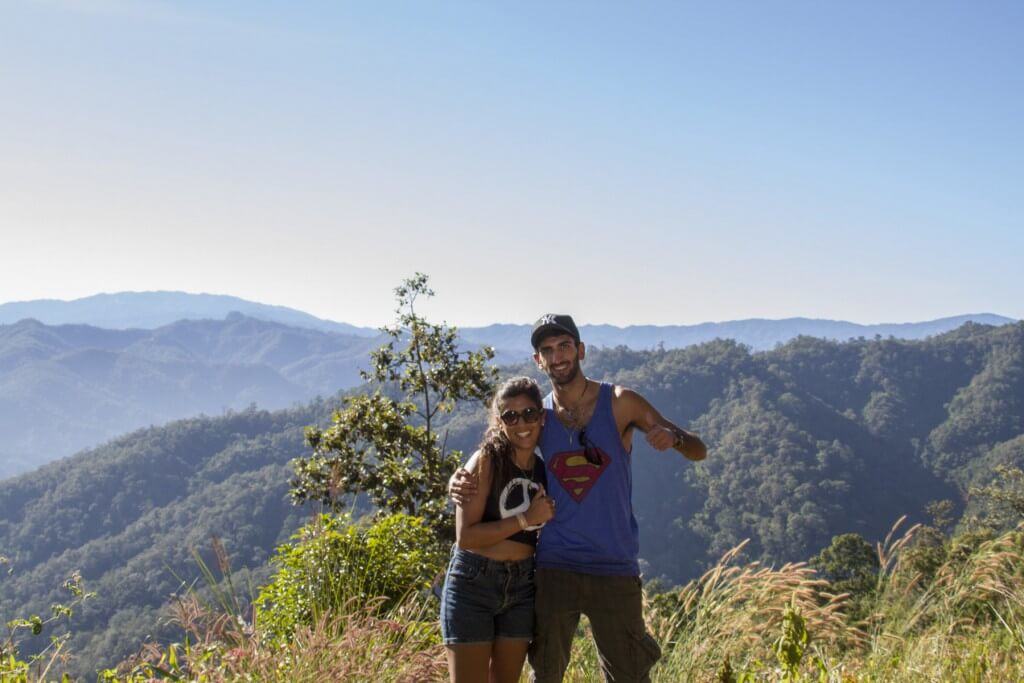 This amazing trek has 600m of elevation gain and a 600m elevation drop and is 14km long. This is a full day hike and is not an easy casual stroll! It's a tough hike going up 600meters but the all the work will pay off with beautiful scenery and great memories.
The hike starts out with a steep climb out of the valley, in 2.5 km we will gain 500 meters of elevation. This part of the trail makes its way through a bamboo forest before coming to a 4×4 road that we use to traverse across the mountain to Baan Pha Daeng a Lahu Village hill tribe.
The road section is about 2 km long before ducking back into a single track for the rest of the trip. but during this section, you will have some amazing views and the gentle traverse gives a nice reprieve from the steep uphill. You will see an area where monks come to meditate in caves and where the village gets its name.
The next 2.5 km of hiking trail traverses the mountainside between two hill tribe villages. You walk through stunning farmed fields and hand harvested orchards. There's lots of shade from the lychee orchards, coffee farms and we will walk through some nice old growth jungle and past by a small stream. This section ends at Huay Kukap a hill tribe village; it is here we will take a break for lunch and enjoy the local culture and vistas from this one of a kind village.
The last half of the trek after lunch is the easy part as we head downhill, but we go a different route than the way we came up. We will go down a single track trail through a forest passing another village hill tribe. Along this section, we will also pass a few waterfalls before finally coming out to the Mae Taeng River. If you have made good enough time its a great place to cool off with a quick shower under the falls. This section is about 7 km and descends about 600 meters
Air-conditioned Transportation
CPR and First Aid certified guides and staff
Lunch, snack and water
Insurance
Pickup from Chiang Mai  8:00 to 8:30 AM
Return to Chiang Mai: 7pm
What to wear / What to bring
We recommend that you bring suitable walking shoes (not flip flops!) and sunglasses are also advisable. Light clothing which offers some protection from the sun is a good idea.
RESTRICTIONS
All participants should be in reasonable physical condition. If you have a heart condition, back, neck, broken bones or are pregnant our actives are not for you.