ATV 3 HRS + RAFT 10 KM
 Best Seller
ATV 3 HRS + RAFT 10 KM
 Best Seller!
AMAZING ATV SAFARI AND WHITEWATER EXPERIENCE
This is our most popular combination package. Enjoy an 3 hour ATV ride through the Mae Taeng Valley combined with the action-packed class III-IV whitewater rafting on the Mae Taeng River. Experience the jungle and rivers of Northern Thailand on this amazing day with 8Adventures.
We have top-of-the-line equipment and highly trained guides to make sure you have a safe adventure. We have towels for you when you finish and shower facilities that you can use before heading home. Make sure to bring a 2nd set of dry clothes so you can ride home dry.
ATVs can be driven solo or with a passenger. We also have an option of a shorter Rafting trip, choose 8KM instead of 10KM if your prefer not to experience the biggest rapids. 
Air-conditioned Transportation
UL Coast Guard Approved Life Jackets
CE EN certified helmets.
CPR and First Aid Certified guides and staff
Lunch
Drinking water, tea or coffee
Insurance
Towel set
PRICE: 5,900 Baht
Transportation and lunch are included!

 Pickup from Chiang Mai: 8.00 – 8.30am

Return to Chiang Mai: 7.00pm

Trip Code: A3 + R10
RESTRICTIONS
All participants should be in reasonable physical condition. If you have a heart condition, back, neck, broken bones or are pregnant our actives are not for you.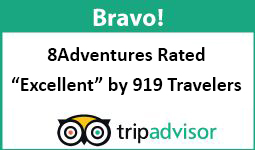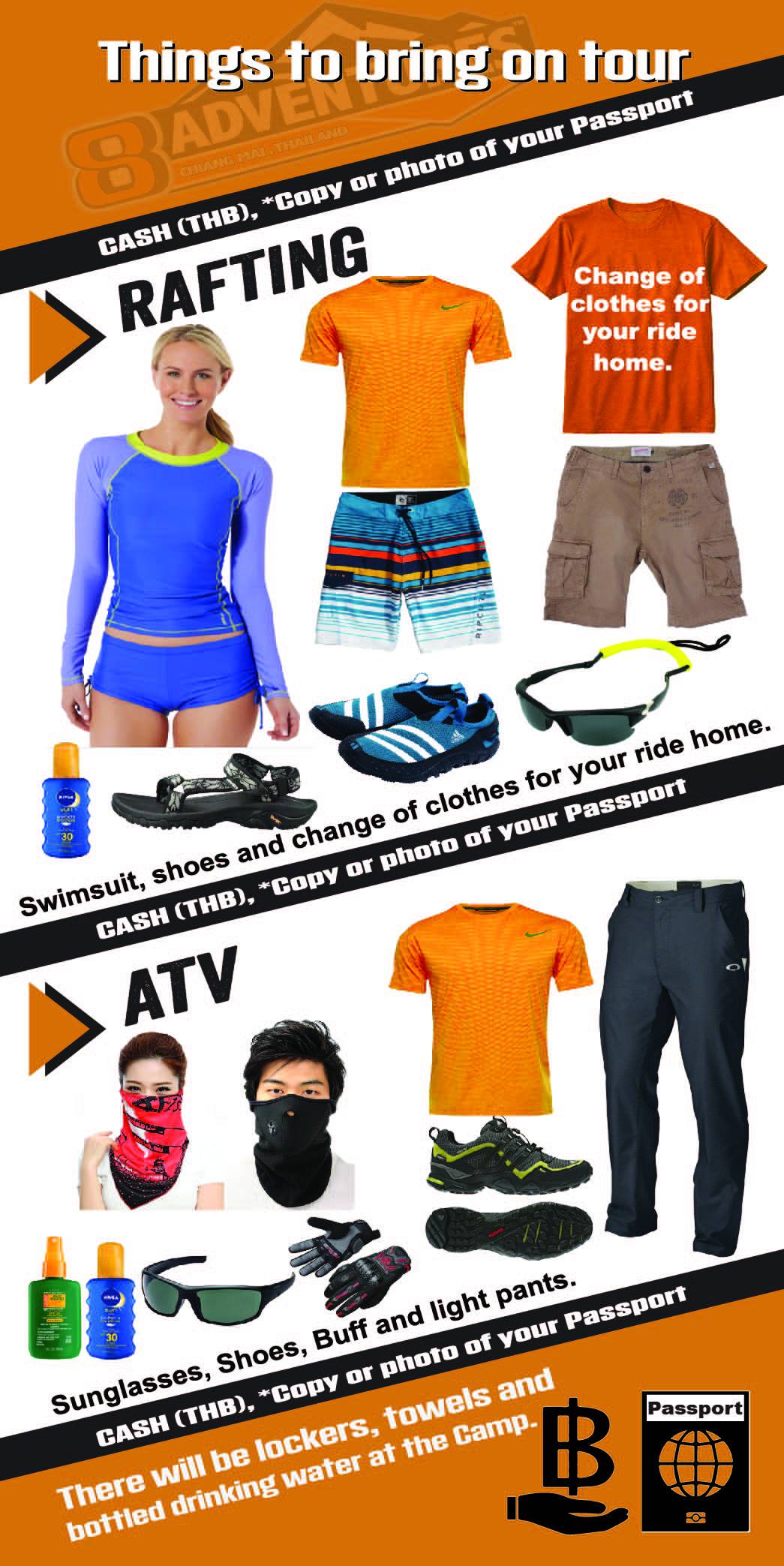 WHAT TO WEAR AND WHAT TO BRING:
Please bring a photo or photocopy of your passport for registration. Bring a dry change of clothes for your ride home.
We highly recommend that you bring sunglasses or glasses and we advise wearing shoes. It is not a good idea to drive your ATV in sandals as there are sharp stones and rocks on the road. Likewise, in the event that you fall off it's a great idea to protect your skin from scrapes by wearing trousers and a long sleeved T-Shirt.
Sunscreen is also important and we recommend you bring a refillable water bottle and a change of dry clothes in the event that it's raining.
CAMERA INFO:
For Rafting and ATVs we have GoPro mounts on the top or the helmets. You must bring the slider attachment. For rafting if you can't swim with it don't bring it.
We take no responsibility for lost GoPros or broken mounts or personal cameras of any kind.
For more details on safety and what to wear and bring check out
www.8Adventures.com/safety/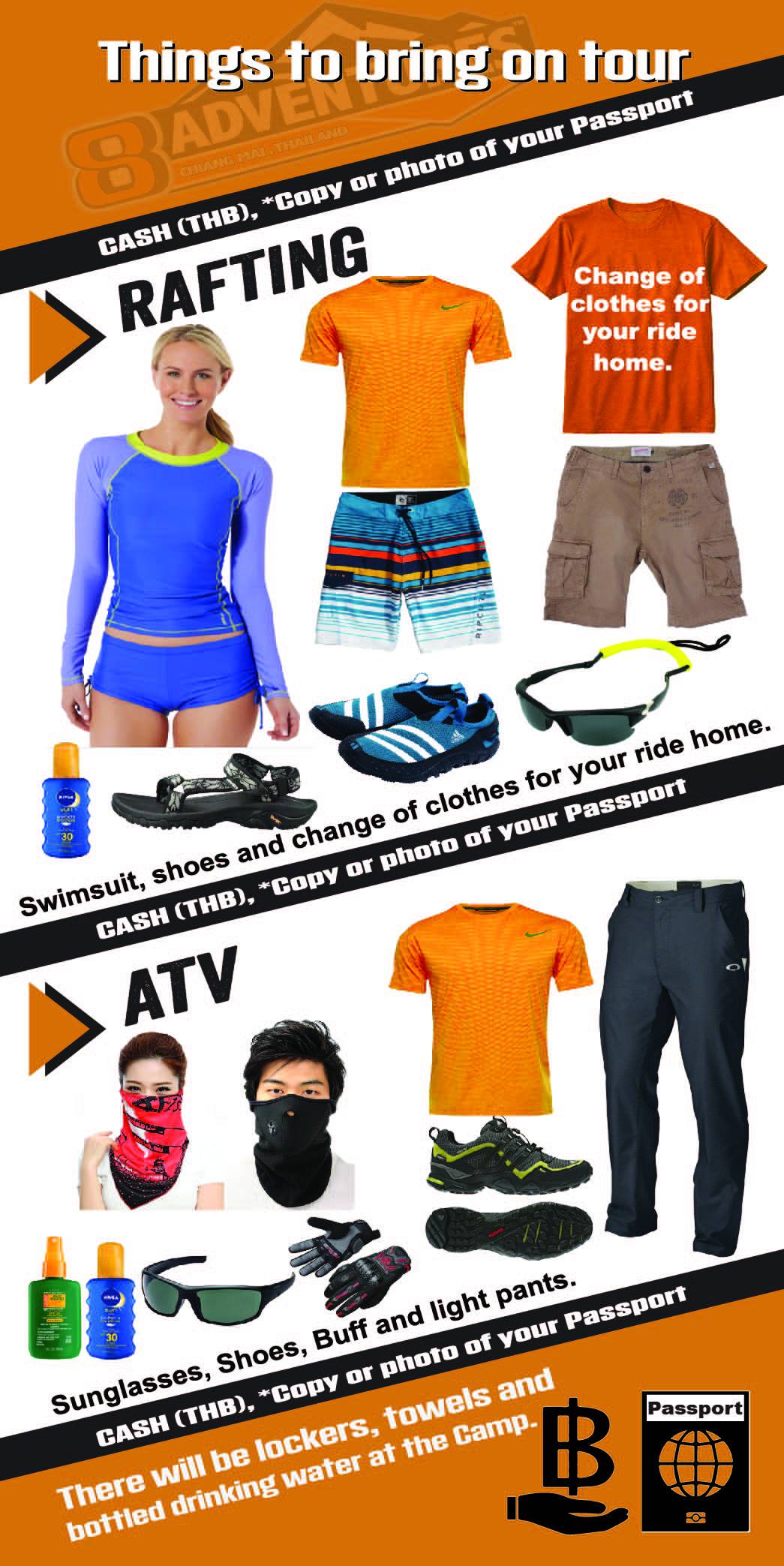 Copyright © 2023 8Adventures™ - All Rights reserved