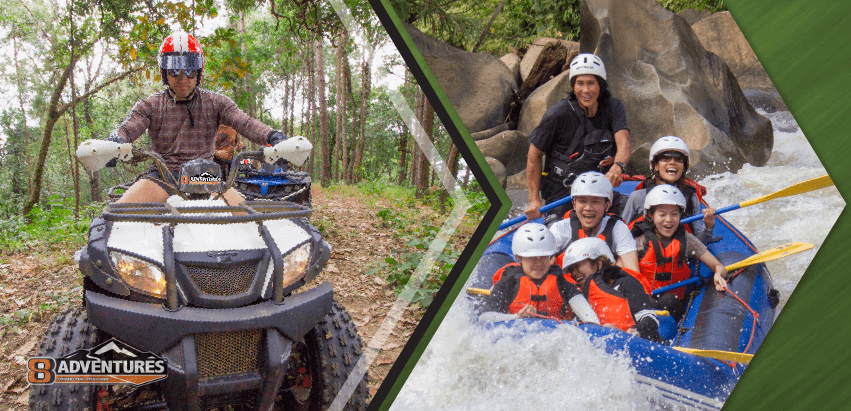 AMAZING ATV SAFARI AND WHITEWATER EXPERIENCE
This is our most popular combination package. Enjoy an 3 hour ATV ride through the Mae Taeng Valley combined with the action-packed class III-IV whitewater on the Mae Taeng River. Experience the jungle and rivers of Northern Thailand on this amazing day with 8Adventures.
We have top-of-the-line equipment and highly trained guides to make sure you have a safe adventure. We have towels for you when you finish and shower facilities that you can use before heading home. Make sure to bring a 2nd set of dry clothes so you can ride home dry.
Air-conditioned Transportation
UL Coast Guard Approved Life Jackets
CE EN certified helmets.
CPR and First Aid Certified guides and staff
Lunch
Drinking water, tea or coffee
Insurance
Towel set
PRICE: 5,900 Baht
ATV PASSENGER: 4,800 Baht
Pickup from Chiang Mai: 8.00 – 8.30am
Return to Chiang Mai: 19:00
What to wear / What to bring
We highly recommend that you bring sunglasses or glasses and we advise wearing shoes. It is not a good idea to drive your ATV in sandals as there are sharp stones and rocks on the road. Likewise, in the event that you fall off it's a great idea to protect your skin from scrapes by wearing trousers and a long sleeved T-Shirt.
Sunscreen is also important and we recommend you bring a refillable water bottle and a change of dry clothes in the event that it's raining.
RESTRICTIONS
All participants should be in reasonable physical condition. If you have a heart condition, back, neck, broken bones or are pregnant our actives are not for you.