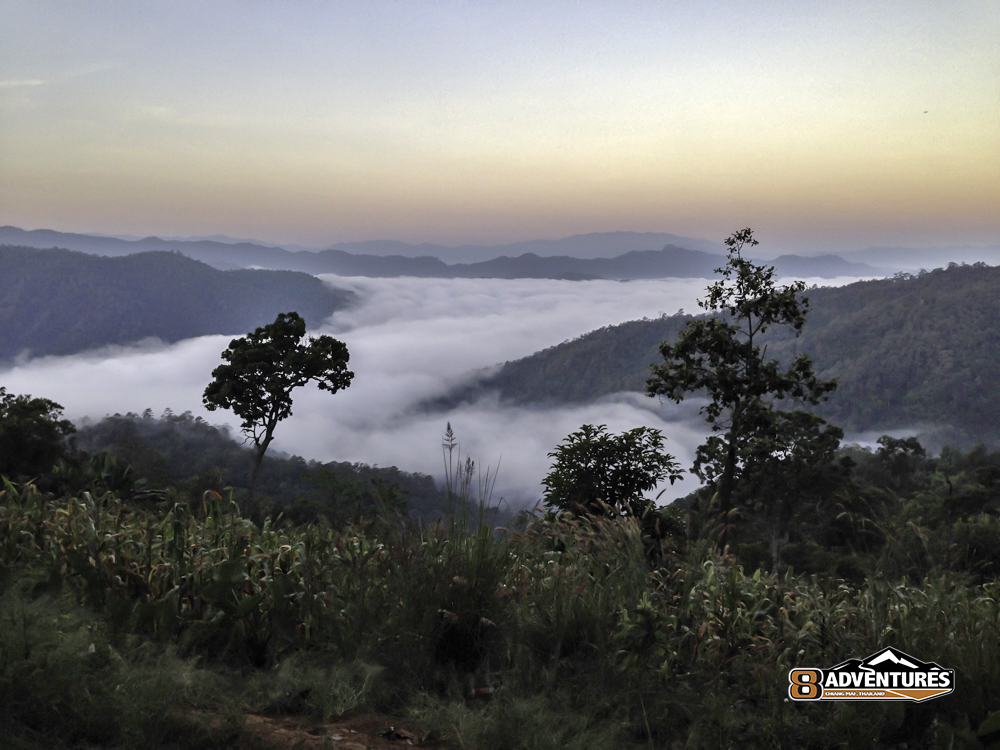 TREK AND SLEEP IN AN INDIGENOUS LAHU VILLAGE
This trek start out a little tough but get much easier after the first hour. As it climbs up out of the valley at a pretty steep grade, gaining 500 meters of elevation in 2.5 km This first section meanders through bamboo forest before finally reaching a 4×4 road that we use to traverse across the mountain to Baan Pha Daeng a Lahu Village hill tribe.
The second section has stunning views and the road gives a nice reprieve from the steep uphill. The road section is about 2 km long before ducking back into single track for the rest of the trip. You also will pass an area where monks come to meditate in caves and where the village gets it name.
The third section of 2.5 km continues to traverses the mountainside between two villages. You will see hand farmed fields and hand harvested areas. There's lots of shade from the lychee orchards, coffee farms and the middle of it has some nice old growth jungle when you cross a stream. This section ends at Huay Kukap where you will stay the night. We will prepair a dinner here for you as well.
Often you can see the lights of Chiang Mai off in the distance 70 km away and on clear nights the stars are amazing . In the morning, if it has rained the clouds will be below you. In a sea of clouds.
The next morning After a local Thai breakfast we will set off on the next part of the hike down the mountain. From this point it's all downhill and the sights are beautiful. Using a track through the jungle we'll make our descent past hill tribe villages, stream beds and waterfalls, before finally making it to the valley floor where the Mae Teang River lies. If you have made good time on your descent there is a great place to cool off under the waterfall. Just before the end. This section in total is 7km
We'll have lunch at the camp before head back to Chiang Mai arriving about 4pm
Pick up is 11:30 the first day and return is about 16:00 the second day.
You can add the rafting or ATV package in the morning before or the afternoon before you come back.
Please note: Larger groups can enquire about additional discounts. During parts of the rainy season (August- September) we may not be able to run this trip.
Air-conditioned Transportation
CPR and First Aid certified guides and staff
Breakfast, Lunch, Dinner and water
Insurance
PRICE: 3,500 Baht
ATV PASSENGER: 2,300 Baht
Pickup from Chiang Mai: 11:00 to 11:30am
Return to Chiang Mai: 16:00 (the next day)
What to wear / What to bring
We recommend that you bring suitable walking shoes (not flip flops!) and sunglasses are also advisable. Light clothing which offers some protection from the sun is a good idea.
RESTRICTIONS
All participants should be in reasonable physical condition. If you have a heart condition, back, neck, broken bones or are pregnant our actives are not for you.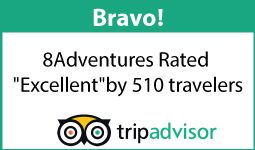 CONTACT INFO
8Adventures
Phone: +66 8 9000 7728
Email: info@8adventures.com
Contact Us Web Form
TAT# 0505558000355
Copyright © 2022 8Adventures™ - All Rights reserved