KAYAK LESSON IN CHIANG MAI
Kayaking Course with Professional Kayak Instructor
The Kayaking Course is customized to fit the needs of the participants. No one trip is exactly the same. In general for beginners we start with the basics in strokes and water reading. For more advanced paddlers we have a wealth of local knowledge to put towards designing the ultimate trip for you. Maximum group size of 4. Price per day is the same for 1 or 4 people. Call 8Adventures for details and individual programs.
Transfer by air-conditioned van, SUV, car or truck
UL Life Jackets and CE EN Certified Helmets, Kayak – Whitewater creek boat, skirt, paddle.
CPR and First Aid certified guides and staff
Lunch each day
Drinking water, tea or coffee
Insurance
Towel set
Hike to Waterfall
3 Km round trip hike up a Mae Taeng Tributary to the base of a 30 foot waterfall. Go for a swim and a small rest then back down to 8Adventures.
Add On Name: Strecth it Out
Pickup from Chiang Mai: Call to schedule
Return to Chiang Mai: Call to schedule
Trip Duration: 8-10 hours
What to wear / What to bring
We highly recommend that you bring sunglasses or glasses and we advise wearing shoes. It is not a good idea to drive your ATV in sandals as there are sharp stones and rocks on the road. Likewise, in the event that you fall off it's a great idea to protect your skin from scrapes by wearing trousers and a long sleeved T-Shirt.
Sunscreen is also important and we recommend you bring a refillable water bottle and a change of dry clothes in the event that it's raining.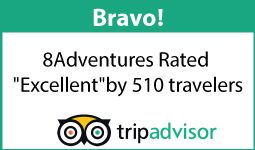 Copyright © 2023 8Adventures™ - All Rights reserved