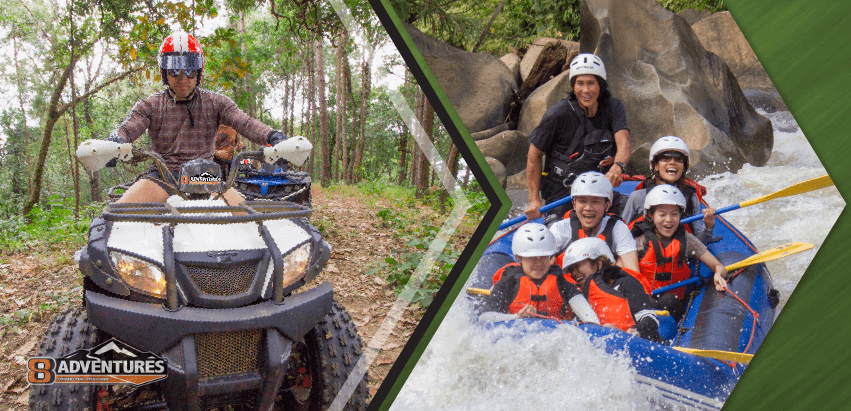 3-hour ATV trip is set up for beginners to intermediate drivers. We start out with detailed instructions and a training course to get you comfortable with your vehicles. It covers roughly 40 km in distance it is a mix of road and off road jungle terrain. It's well-suited for those that would like to explore the local countryside and see it a different way.
10 km White water rafting has it all. Is broken into 3 sections. 1st is a great warm-up where you learn skills practicing with the guides and getting used to the boat. This section has one class III and is probably the most beautiful section of the river with the encroaching jungle offering lots of shade. The middle section is an action-packed with rapids and is probably the best Whitewater in Thailand. Most of this section is class III and IV rapids. The 3rdsection lets up in the beginning giving you some time to relax before entering a great class III and into short continuous section of rapids that goes almost all the way to the take out where our camp is. We have top-of-the-line equipment expert trained guides to make sure you have a safe adventure. We have towels for you when you finish and shower facilities that you can use before heading home. Make sure to bring a 2nd set of dry clothes so you can ride home dry.
WHY BOOK WITH 8ADVENTURES?
Air-conditioned Transportation
CPR and First Aid certified guides and staff
Lunch
Insurance
Pickup from Chiang Mai: 8- 8.30am
Return to Chiang Mai: 18:00 to 19:00
What to wear / What to bring
We highly recommend that you bring sunglasses or glasses and we advise wearing shoes. It is not a good idea to drive your ATV in sandals as there are sharp stones and rocks on the road. Likewise, in the event that you fall off it's a great idea to protect your skin from scrapes by wearing trousers and a long sleeved T-Shirt.
Sunscreen is also important and we recommend you bring a refillable water bottle and a change of dry clothes in the event that it's raining.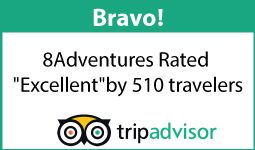 Copyright © 2023 8Adventures™ - All Rights reserved