ATV 4 HOURS
 On/Off Road Super Fun Safari
ATV 4 HOUR TOUR
On/Off Road Super Fun Safari
4 HOUR ATV SAFARI, ON AND OFF ROAD (WITH TRAINING)
4 hour ATV trip is set up for beginners to intermediate drivers. We start out with detailed instructions and a training course to get you comfortable with your vehicles. It covers roughly 50 km in distance it is a mix of road and off road jungle terrain. The added time on this tour is in the jungle. It's well-suited for those that would like to explore the local countryside and see it a different way.
Air-conditioned Transportation
Lunch
Drinking water, tea & coffee
ATV: DOT and CE Rated Helmets
CPR and First Aid certified guides and staff
PRICE: 4,500 Baht
ATV PASSENGER: 3,300 Baht
UNDER 12 YEARS: 1,500 Baht
Transportation and lunch are included!
Pickup from Chiang Mai: 8:00 to 8:30 am
Return to Chiang Mai: 19:00
Trip Code: A4
What to wear / What to bring
We highly recommend that you bring sunglasses or glasses and we advise wearing shoes. It is not a good idea to drive your ATV in sandals as there are sharp stones and rocks on the road. Likewise, in the event that you fall off it's a great idea to protect your skin from scrapes by wearing trousers and a long sleeved T-Shirt.
Sunscreen is also important and we recommend you bring a refillable water bottle and a change of dry clothes in the event that it's raining.
RESTRICTIONS
All participants should be in reasonable physical condition. If you have a heart condition, back, neck, broken bones or are pregnant our actives are not for you.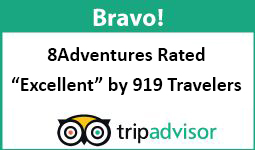 WHAT TO WEAR AND WHAT TO BRING:
Please bring a photo or photocopy of your passport for registration. Bring a clean change of clothes for your ride home.
ATV: Sun Glasses, Shoes, and light pants.
We recommend that customers bring sunscreen and bug spray.
CAMERA INFO:
For Rafting and ATVs we have GoPro mounts on the top or the helmets. You must bring the slider attachment. For rafting if you can't swim with it don't bring it.
We take no responsibility for lost GoPros or broken mounts or personal cameras of any kind.
For more details on safety and what to wear and bring check out
CONTACT INFO
8Adventures
Phone: +66 8 9000 7728
Email: info@8adventures.com
Contact Us Web Form
TAT# 0505558000355
Copyright © 2022 8Adventures™ - All Rights reserved