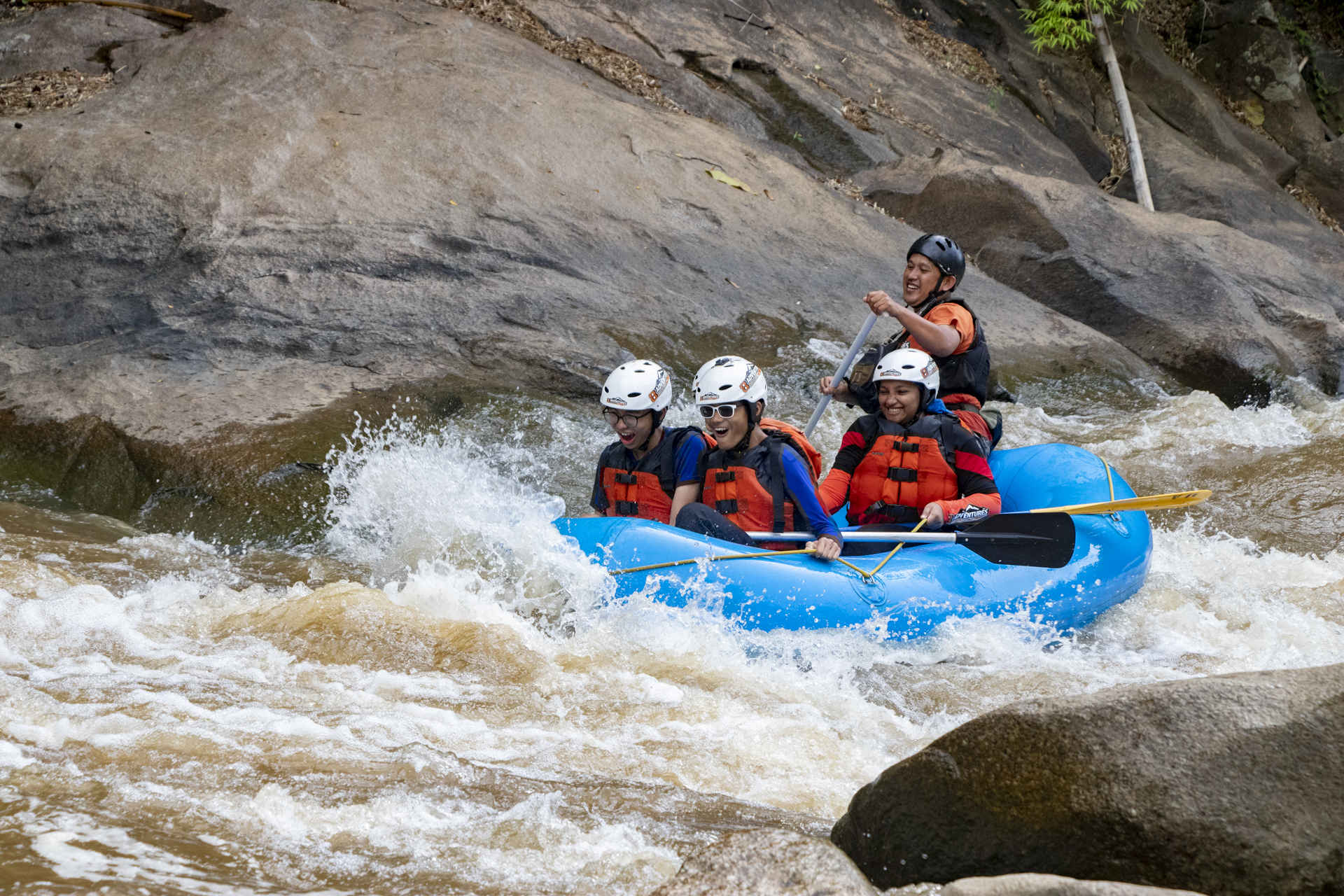 Multi-Day Trip – 7 DAYS FOR SCHOOLS, COLLEGES AND UNIVERSITIES
Chiang Mai in 7 Days – Adventure, Culture and Exploration
This multi-day trip lasts for 7 days in Chiang Mai province and includes thorough immersion into the local cultures found in Northern Thailand. Spending time engaged in local Karen, Lahu and Lanna hill tribes and communities this multi-day trip provides a preeminent opportunity to combine both adventure, education and learning, and culture all within safe and inspiring settings. Our trips enable self reflection and growth through meeting new challenges both as a team and individually.
Join this multi-day trip and descend the might Mae Taeng river tackling 3 days of class 1-3 whitewater. Trek between Hill Tribe villages, soar between trees on ziplines and explore beneath the earth's surface in an unknown underground caving world. 
All of our multi-day trips are suitable for complete beginners and can be varied in difficulty to cater to the needs of different ages and abilities.
Within all of our trips consideration and appreciation for the environment is an ongoing theme. From learning about medicinal properties of different plant species, to getting hands on and involved in understanding how local communities live in harmony with their environment,  sustainable living and environmental protection is something that we strive to both embrace but also share with others.  
Multi-Day Trip – 7 Day Trip Itinerary
Day 1: Pick up from CNX – Transfer North to 8Adventures Base Camp
After pick-up from Chiang Mai International Airport the group will transfer directly to the 8Adventures base camp. Air-conditioned minivans will transfer us for this 1.5hr journey. We will arrive at our main Camp location where we will settle into our dorm-style accommodation for the night.
Depending on the time of arrival, and available time before dinner and nightfall, we have a few options to fill the time.
Day 2: Trekking and Caving
After breakfast, we will depart from Base Camp and travel further north to the remote town of Muang Khong. Our journey will take us up and over Thailand's 3rd tallest mountain past stunning limestone cliffs and 360 degree vistas.
We will reach the valley floor and quante town of Muang Khong by lunch time.
The afternoon will be spent exploring 'Taam Khi Mee' – a two kilometer long cave with stunning cave formations including stalactites, stalagmites, columns, curtains, caverns and much more! This cave has a wide array of opportunity to learn about the geology and geography of the Chiang Mai region. As the end of the cave a 1.5hr trek back over the top of the hill to where we started the caving and too our accommodation for the night.
Day 3: Introduction to Whitewater Rafting
Over the next 3 days, our rafting adventure on the Mae Taeng river will get progressively exciting as the rapids build alongside our skill and experience.
Day 1 is 17km of Class 1-2 whitewater. This is a perfect opportunity for everyone to practice and perfect their whitewater paddling skills with the added opportunity to helm and captain the boat for a bit.
Lunch will be halfway down the river and we will finish off mid afternoon at a Karen Hill Tribe Village where we will spend the night. In our second hill tribe village experience we will have the opportunity to learn about their different cultures and customs and compare them to our experiences of other hill tribe cultures both already experienced, and to come.
Day 4: Whitewater Rafting via the Elephant Experience
After breakfast and a warming hot chocolate, we will embark on our second day of Rafting. As the river meanders south, the rapids increase in size and the experiences develop. Midway today we will have the opportunity to stop off at a remote Elephant Camp. Here everyone can learn about the history of working elephants in Thailand as well as its abolishment and the following birth of different types of elephant tourism that exists today. At this camp we will get to observe the animals in the remote location in their natural habitat, as well as feed them and wash them in the river.
The evening will be spent in the remote Lahu hill tribe of Huay Kup Kap. After dinner local children will often appear dressed in vibrant traditional clothing and tell stories of their heritage passed down in song. Here we will be able to compare our experiences of the Karen, Lahu and dominant Thai Lanna Cultures of northern Thailand experienced so far.
Day 5: Trek down via the Waterfalls
In the mornings here we can often witness a spectacular sea-of-fog that fills up the valley floor below. After breakfast we will continue our trek down the mountain. Approximately 8 km in length this portion descends a total of 600 meters passing 4 waterfalls – some of which are possible to swim in, a fantastic way to cool off half way!
The trek passes through both subsistence fruit and vegetable farms, coffee plantations, bamboo forests and of course the thickest of jungles. At the higher altitudes however the trees disperse opening up to fields that bloom in flower at the right time of year.
We arrive back at Camp for lunch and a relaxed afternoon after our hiking. This evening we will light a BBQ and enjoy the fire roasting marshmallows.
Day 6: Final Rafting 8km and Zipline
Today is our final day of whitewater rafting. We will spend 3 hours on arguably Thailand most exciting whitewater. This rafting trip will conclude the rafting portion of the trip arriving back at Camp for lunch.
After lunch we will soar through the canopy on one of Chiang Mai's most thrilling activities – ziplining!
In the evening we will wind down and reflect on our expedition, the challenges overcome, the feats accomplished and the memories made.
Day 7: Departure and Transfer back to Chiang Mai
After breakfast, depending on schedules and plans we will either return to Chiang Mai to conclude the trip or alternatively spend the morning with one of our other options.
"The 8Adventures team is experienced and professional second to none in Thailand. Their team is dedicated and passionate and every detail of our trip was taken care of with great zeal. Eric and his team were always concerned about the welfare of our students and staff and I am very happy that we chose 8Adventures as our service provider." – Dr Wang Dakun, Hwa Chong Institution, Singapore
CONTACT INFO
8Adventures
Phone: +66 8 9000 7728
Email: info@8adventures.com
Contact Us Web Form
TAT# 0505558000355
Copyright © 2022 8Adventures™ - All Rights reserved