CHIANG MAI TREKKING, ATV & WHITE WATER RAFTING TOURS
CREATED BY A 2-TIME WORLD CHAMPION KAYAKER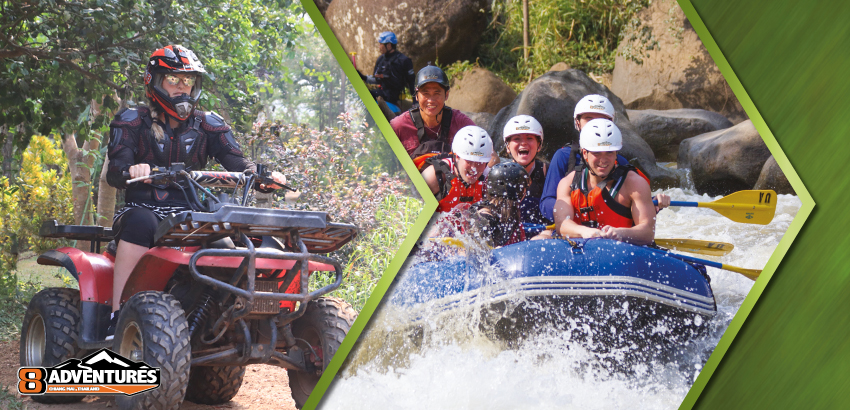 Our most popular combination adventure! Enjoy a 3-hour ATV Adventure combined with action-packed 10km Whitewater Rafting. Experience culture, scenery and rivers in northern Thailand.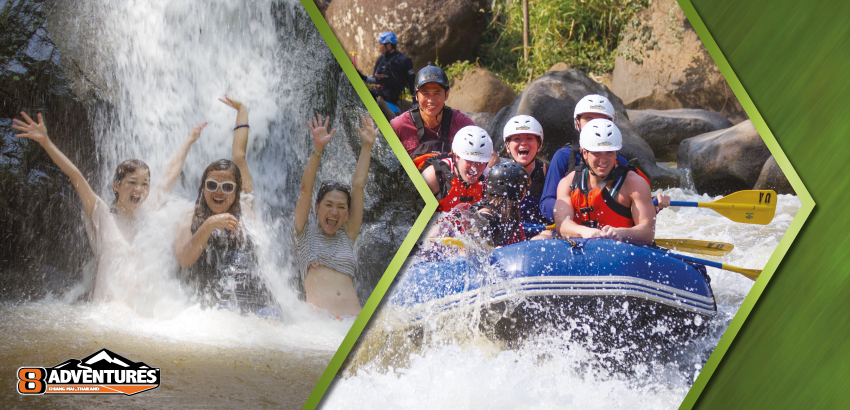 Enjoy the combination of a 3-Hour Trek to a waterfall and an amazing 10km White Water Rafting tour, all in one day. See the best of Chiang Mai's nature and learn about flora and fauna.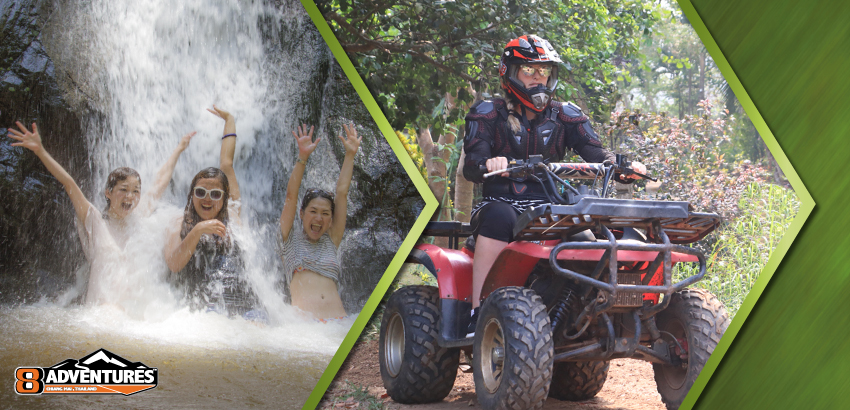 Experience a 3-Hour trek through the Thai jungle and an ATV Adventure around rural Thai villages. Suitable for families, groups and travellers of all ages, 8Adventures will ensure you have a great day out.
ACTIVITIES IN CHIANG MAI THAILAND
8Adventures offer some of the most exciting things to do in Chiang Mai, Thailand. We are an experienced team and top rated operator of the best White Water Rafting in Thailand with a dedication to safety. Our mission is to share natural experiences and culture, through fun, safe activities for people of all ages.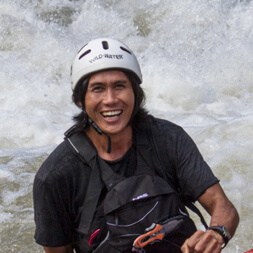 Kriangsak Boonsom, Rafting Operations
Thai National Kayaking Champion, 13 year veteran on Mae Taeng River and brilliant naturalist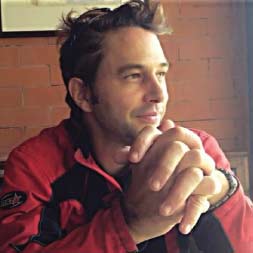 Eric Southwick, CEO
Eric is a 2- time
World Champion Kayaker
and adventure sports enthusiast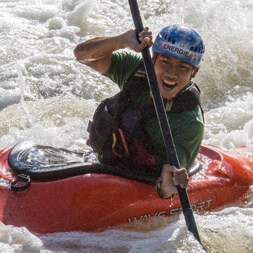 Ekwit Chuapoon, ATV Operations
Asian kayaking champion, Adventure sport enthusiast and 10 years of experience in advanced ATV.

We are the only company in Thailand to be certified by the International Rafting Federation and are ready to handle any rescue situation, should it occur.

The Red Cross certifies all of our guides in First Aid and CPR and we use the best safety equipment. EN CE helmets and UL Coastguard approved life jackets.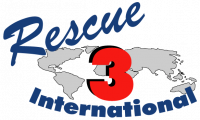 tOur captains have successfully completed the White Water Rescue Technician Course arranged by Rescue 3 International, the world-renowned adventure activity training organisation.
WHAT DO OUR CUSTOMERS SAY?
"Did the trekking and the ziplining, although i'd consider myself vertigo. Felt very secure during both trips."
Jimmy W – TripAdvisor
"Amazing team of pro English speaking guides with high standards of safety. was a top location for white water rafting and ATV treks"
Dennis S – TripAdvisor
"From beginning to end we had a fantastic time with the Team. I booked this trip for me, my husband, 9 year old and 7 year old twins….they made it a truly magical day out. My kids can't wait to go rafting again! Thanks for a very memorable adventure. "
Cosmo303 – TripAdvisor
"It was really amazing and the guides are really really good and funny! I enjoyed it very much with "Sa" (I don't know if the name is written correctly). He mades a very good job and was very friendly! I feel very safety with him :)"
dr0ppie – TripAdvisor
"From the experienced of the World Champion he taught us a lot of tip that we had never known before. He is very informative about trees, wild life and the river. It was like a paradise Kayak though Mae Tang river see lots of birds and wild life along the river. "
Thailand Wow – TripAdvisor
"Eric, a world-class kayaker, loves rafting and the Mae Tang region of Thailamd so much that he's made it his home and business. His staff is made up of mostly locals from that village who know a tremendous amount about the jungle and people in the area."
SHOWeezy23 – TripAdvisor
CONTACT INFO
8Adventures
Phone: +66 8 9000 7728
Email: info@8adventures.com
Contact Us Web Form
TAT# 0505558000355
Copyright © 2022 8Adventures™ - All Rights reserved