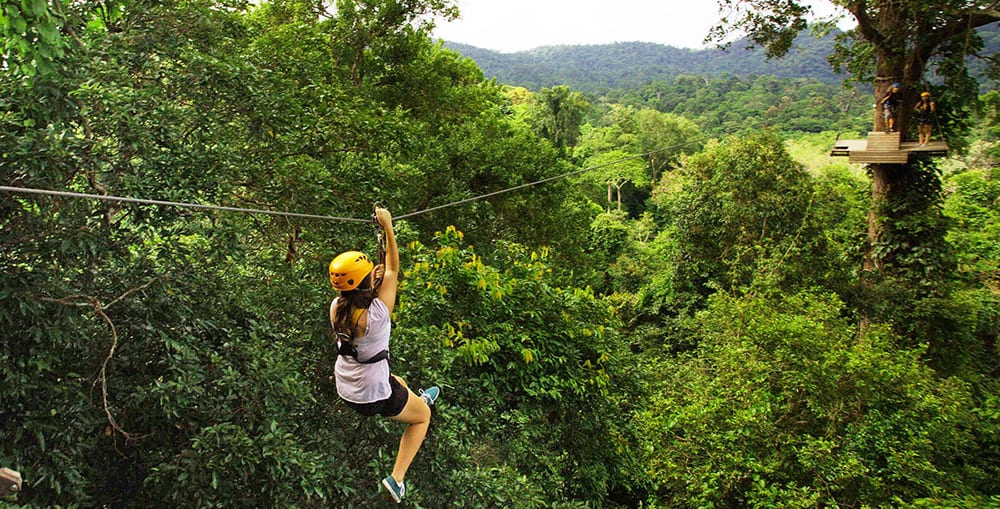 2 Day Tour: 10KM Whitewater Rafting AND Flight of the Gibbon Zipline
Thailand's premier zipline "Flight of the Gibbon" and Rafting 10KM!
This tour operates over two days; on Day 1 you'll enjoy one of 8Adventures signature tours, Whitewater Rafting 10KM on Thailands most exciting whitewater. On Day 2 you will experience the famous "Flight of the Gibbon" Chiang Mai zipline and return back to your hotel in the evening.
On the First day we'll experience the best 10km whitewater the Mae Taeng River has to offer, with impressive drops with superb scenery. Very much in the jungle you will enjoy both stunning vistas as well as the excitement of the rapids – not to mention the possibility of seeing Elephants as we cruise downstream.
After the Rafting we will return you to Chiang Mai City to your hotel.
For the Second Day, Flight of the Gibbon has a combination of ziplines, abseiling, sky bridges and forest walks with some stations suspended very high up above the valley floor and one of Asia's longest single zipline flights at 800 meters! Soaring through the dense canopy is awesome and there are even some Gibbons to be spotted if you keep your eyes pealed!
Air-conditioned Transportation
CPR and First Aid certified guides and staff
Lunch
Insurance
Pickup from Chiang Mai Day 1: 8:00 to 8:30 am
Return to Chiang Mai: 16:00 to 19:00
Pickup from Chiang Mai Day 2: 8:00 to 8:30 am
Return to Chiang Mai: 16:00 to 19:00
What to wear / What to bring
Long pants, athletic shoes, rain jacket, sunscreen, refillable water bottle, small day pack, and sunglasses.
RESTRICTIONS
Zipline: There is a strict age limit of 70 years for the Zipline adventures. There is also an upper weight limit of 100kg. Please inform us if any one in your group weighs more than 100kg.
All participants should be in reasonable physical condition. If you have a heart condition, back, neck, broken bones or are pregnant our actives are not for you.