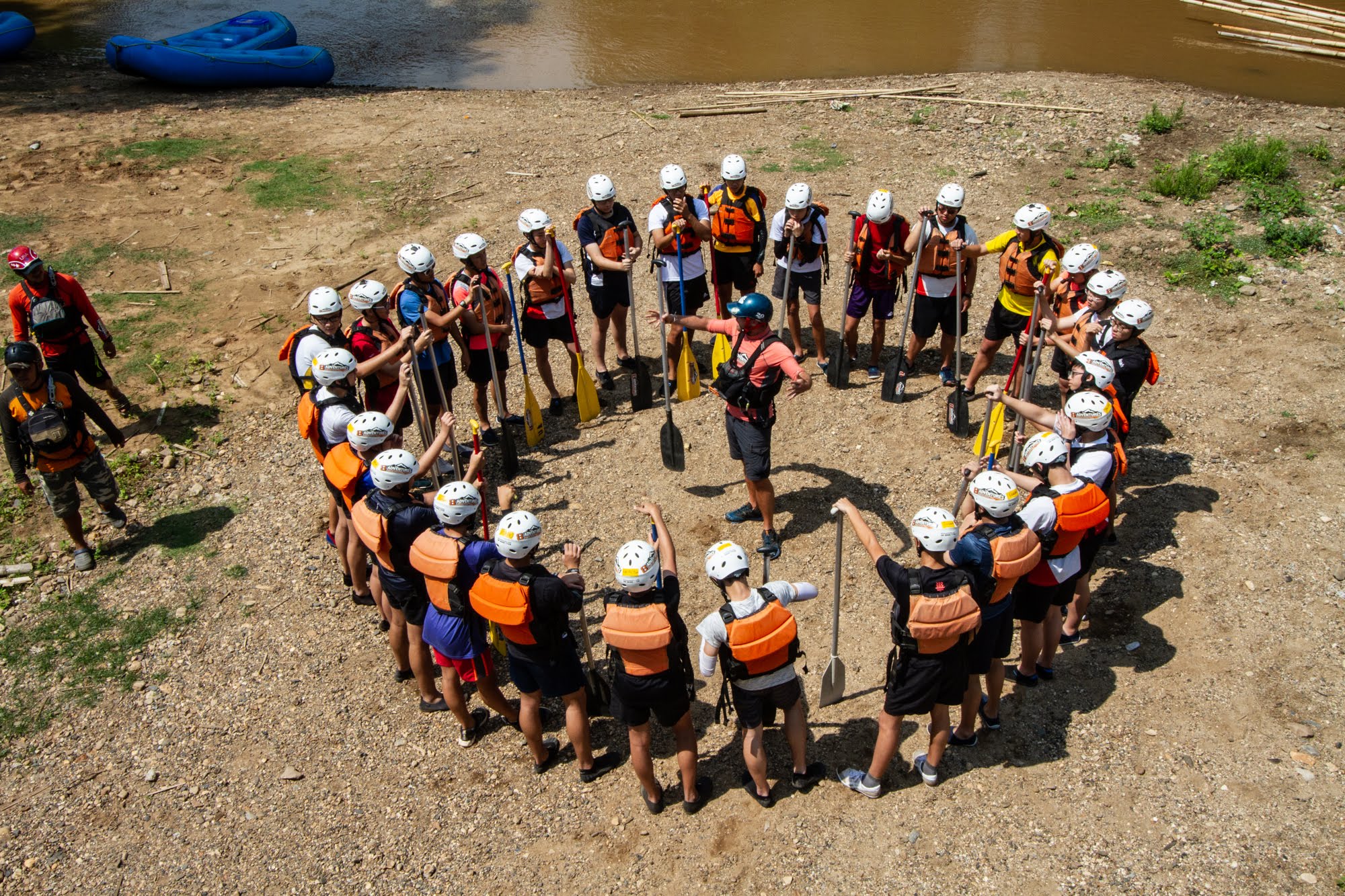 12 DAY SCHOOL TRIP THAILAND – SCHOOLS, COLLEGES AND UNIVERSITIES
Chiang Mai in 12 Days – The Real Deal!
8Adventures' 12 Day School Trip Thailand is based out of Chiang Mai province. Northern Thailand is perfect for the outdoorsy and adventurous person and our school trips are highly flexible to meet all demands. Ideal for an extended school trip or field trip, or possibly a college or university exchange, this trip has it all! With 3 days rafting on the mighty Mae Teng, 1-day caving, 4 days trekking, and half a day of biking. This school trip Thailand incorporates culture into the outdoor adventure opportunities that Chiang Mai has to offer.
Northern-Thailand boasts culture, food and an array of safe outdoor and adventure based activities suitable for participants of all ages.
This 12 day school trip Thailand will include immersion into local culture, Buddhist temples, whitewater rafting, caving, practices in sustainable living, mountain biking, a houseboat lake stay, village hill tribe stays and more! This 12-day trip is 8Adventures most action packed and most diverse trip option!
All our trips are suitable for complete beginners and can be varied in difficulty to cater to the needs of different ages and abilities.
Within all our trips consideration and appreciation for the environment is an ongoing theme. From learning about medicinal properties of different plant species, to getting hands on and involved in understanding how local communities live in harmony with their environment, sustainable living and environmental protection is something that we strive to both embrace but also share with others.
12 Day School Trip Thailand Itinerary
Day 1: Pick up from CNX – Doi Suthep – Trek to Village Stay
After pick-up from Chiang Mai International Airport the group will transfer directly to one of Chiang Mai's most sacred and beautiful temples: Wat Prah That Doi Suthep. Located 1,300 meters above Chiang Mai this temple is located at the top of Doi Suthep mountain and offers the best views of Chiang Mai and the surrounding valley floor. The 12th Century temple is home to beautiful ornate carvings and is a perfect introduction to Thai culture, Buddhism, and the opportunity for everyone to be blessed by the monks for their forthcoming adventure.
From the temple, several treks are available depending on the flight arrival time. The destination; a Hmong Hilltribe Village where our first night will be spent. Meandering along valleys and ridges at an altitude of 1,600 meters, the trek will be tailored to the available time we have before sunset. Route options can be as short as a kilometer to a spectacular viewpoint, or up to 7 Km in length. The cooler temperatures at altitude along with the cover of the evergreen forest is a perfect way to walk off some jetlag and stretch those legs after the long journey to Thailand.
This evening will be our first Hill Tribe Village stay and our first experience of authentic rural Thai Culture. Guided through the village, everyone will have the opportunity to learn about the Hmong ethnic minority group of S.E Asia including some of their cultures and traditions, traditional hand woven costumes, food and games.
Day 2: Descend Doi Suthep – Trek and Waterfalls – Transfer to 8Adventures
Arising fresh and early, Day 2 will start off with breakfast and hot chocolate (or of course hot coffee) looking out across the valley below.
The trek down the mountain is approximately 7km in length, finally finishing off at the Huay Tung Tao Reservoir. Along the route down the views of the City below will be hard beaten with the added fun of a spectacular waterfalls and slides to cool down in.
Upon arrival at the Reservoir lunch will be enjoyed on floating local Thai style huts looking across the water before bundling into our airconditioned minivans for the 1.5hr journey ahead.
We will arrive at our main Camp location by mid-afternoon where we will settle into our dorm-style accommodation for the night.
Day 3: Trekking and Caving
The first portion of our transfer departs 8Adventures Camp stopping half way at Chiang Dao Temple and Cave we will have a brief bathroom break and explore this spot for 1 hr. The remainder of the journey will ascend up and over Thailand 3rd tallest mountain past stunning limestone cliffs.
We will arrive into the valley floor will be at about lunch time.
The afternoon will be spent exploring 'Taam Khi Mee' – a two-kilometer-long cave with stunning cave formations including stalactites, stalagmites, columns, curtains, caverns and much more! This cave has a wide array of opportunity to learn about the geology and geography of the Chiang Mai region. As the end of the cave a 1.5hr trek back over the top of the hill to where we started the caving and too our accommodation for the night.
Day 4: Introduction to Whitewater Rafting
Over the next 3 days, our rafting adventure on the Mae Taeng river will get progressively exciting as the rapids build alongside our skill and experience.
Day 1 is 17km of Class 1-2 whitewater. This is a perfect opportunity for everyone to practice and perfect their whitewater paddling skills with the added opportunity to helm and captain the boat for a bit.
Lunch will be halfway down the river and we will finish off midafternoon at a Lahu Hill Tribe Village where we will spend the night. In our second hill tribe village experience we will have the opportunity to learn about their different cultures and customs and compare them to our experiences of both the Hmong (from Day 1), and the dominant Thai Lanna Culture or northern Thailand.
Day 5: Whitewater Rafting via the Elephant Experience
After breakfast and a warming hot chocolate, we will embark on our second day of Rafting. As the river meanders 16 km south, the rapids increase in size and the experience develop. Midway today we will have the opportunity to stop off at a remote Elephant Camp. Here everyone can learn about the history of working elephants in Thailand as well as its abolishment and the following birth of different types of elephant tourism that exists today. At this camp we will get to observe the animals in the remote location in their natural habitat, as well as feed them and wash them in the river.
At the end of this day we will arrive back at our main Camp where we will spend the night.
Day 6: Final Rafting 8km – Overnight stay at the National Park Forestry Center
Today is our final day of whitewater rafting. We will spend 3 hours on arguably Thailand most exciting whitewater. This rafting trip will conclude the rafting portion of the trip arriving back at Camp for lunch.
After lunch we will transfer 3hrs to a National Park Forestry Center. This has undoubtedly some of the best views – best appreciated at sunset and sunrise – in all of Thailand. From the cabins that we stay in, views across the entire Chiang Dao region with the pinnacle being Thailand's 3rd tallest mountain right in front of us.
Day 7: Full Day Trek to Remote Hill Tribe Village
After our stunning sunrise across Chiang Dao followed by breakfast, we will prepare our departure for our full-day trek.
Approximately 10 km in total distance this trek snakes up the ridge raising 300 meters in the first 3 km. The reward after this 3 km is being at the regional peak – Doi Sam Liem. From here the next 6km traverse down to where we will be spending the evening. The trek passes through both subsistence fruit and vegetable farms, coffee plantations, bamboo forests and of course the thickest of jungles. At the higher altitudes however, the trees disperse opening up to fields that bloom in flower at the right time of year.
The evening will be spent with a walking village tour which provides insight to another hilltribe village. After dinner local children will often appear dressed in vibrant traditional clothing and tell stories of their heritage passed down in song.
Day 8: Trek down via the Waterfalls
In the mornings here, we can often witness a spectacular sea-of-fog that fills up the valley floor below. After breakfast we will continue our trek down the mountain. Approximately 8 km in length this portion descends a total of 600 meters passing 4 waterfalls – some of which are possible to swim in, a fantastic way to cool off half way!
We arrive back at Camp for lunch and a relaxed afternoon after our hiking.
This evening we will light a BBQ and enjoy the fire roasting marshmallows.
Day 9 and Day 10: Wat Baan Din – Cycle – Organic Farm and Education Center
After breakfast we will transfer to Wat Baan Din. We start and finish our tour in Thailand by taking part in important local cultural traditions. Today we visit the famous Wat Baan Din Temple. Within the grounds of this beautiful Wat are buildings of different historical and regional styles from all over Thailand. Nearing the end of our cultural and adventurous once in a lifetime trip to Northern Thailand.
From here we mount our bicycles and cycle 12km weaving our way through villages, past open paddy fields and over the mighty Ping River finally arriving at the Organic Farm and Education Center for lunch.
Over the next day and a half, we will learn about the environment, food, dwellings and culture from a very hands on and interactive approach.
Everyone will have the opportunity to build mud bricks to erect Mud Houses. We will learn the processes of planting and harvesting rice – the staple food of most of the world's population. We will also witness how this community strives to live self-sufficiently with regard to clean drinking water, fruit and vegetable farms, chickens and cows as well as solar powered energy.
Day 11: Cycle to Mae Ngat Dam Floating Huts
After 2 days at the Organic Farm and Education Center we will be ready to continue our journey onwards. Taking onboard the environmental considerations of the past couple of days, we will journey on via human power.
Today we continue our cycling journey along unpaved country lanes, weaving through rice paddy fields finally arriving at our destination: Mae Ngat Dam.
From here we board kayaks and continue our human powered journey a further 5km out to our evening accommodation: remote floating bungalows. Located about 2.5hrs kayak from where we leave our bikes we will arrive to a tethered and anchored floating community. Here we will spend the afternoon and evening relaxing, swimming in the clean lake, using the available kayaks and other water toys.
Day 12: Wat Baan Din – Sticky Waterfall
After breakfast we will pack up from the floating bungalows and journey back to our awaiting vans. Today will visit the famous Sticky Waterfall. Before returning the 1hr drive back to Chiang Mai City we stop off at the Sticky Waterfall – the morning will be spent exploring the cascading levels of falls that can be walked up, looking for the nicest pool to swim in.
After this we will transfer back to Chiang Mai and check into our final nights' accommodation. The evening will be spent at the famous Chiang Mai night market picking up any final souvenirs.
Day 13: Transfer to CNX after breakfast
After our breakfast in Chiang Mai, transfer will be to Chiang Mai International Airport for our onwards flight.
"First off, the staff were amazing. They deserve all the praise in the world. Each one was there to make sure everyone had an unforgettable experience. They were professional, fun, knowledgeable, and took the necessary steps to ensure a safe experience. It was AWESOME. This company exceeded all expectations. Thanks, 8Adventures! We had an amazing time!" – Brandon, Salt Lake City
CONTACT INFO
8Adventures
Phone: +66 8 9000 7728
Email: info@8adventures.com
Contact Us Web Form
TAT# 0505558000355
Copyright © 2022 8Adventures™ - All Rights reserved